DEMOCRAT EVAN BAYH EXPECTED TO RUN FOR INDIANA SENATE SEAT
WASHINGTON (AP) — Former Democratic Sen. Evan Bayh is expected to make another run for Senate in Indiana, Democratic officials said Monday, a development that would dramatically improve the party's chances to win back the vacant seat, and Senate control along with it.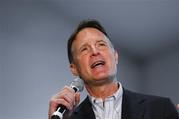 Democrats have been courting Bayh for over a year to run for the seat now held by Republican Sen. Dan Coats, who is retiring. Bayh was a top surrogate for Hillary Clinton during her unsuccessful run for president in 2008, and has been a major fundraiser for her this cycle. One Democratic official said Clinton herself had a role in convincing Bayh to get in the race.
The Democratic officials spoke on condition of anonymity ahead of a formal announcement.
Bayh, who retired in 2010 following two terms, is sitting on nearly $10 million in left-over campaign funds. But he delayed making a decision, and when the primary happened May 3 former Democratic Rep. Baron Hill won the party's nomination.
Hill was not considered a strong candidate to take on the GOP nominee, establishment favorite Rep. Todd Young, in the GOP-leaning state. On Monday, Hill announced he had filed papers to withdraw from the nomination. In a statement, Hill alluded to Bayh's likely candidacy without mentioning him by name.
"Democrats have a very real chance at winning this Senate seat, especially with a strong nominee who has the money, name identification and resources to win," Hill said. "I do not want to stand in the way of Democrats winning Indiana and the U.S. Senate."
Bayh was coy in his own statement about Hill's announcement.
"Baron Hill has always put Indiana first, and has been focused on setting aside party differences to strengthen our state and country," Bayh said. "I share this commitment, and agree with him that the stakes have never been higher. Baron and I have spoken and we both believe that we must send leaders to Washington who will put Hoosiers' interests ahead of any one political party."
Bayh, 60, served as governor of Indiana before winning election in 1998 to the Senate seat his father, Birch Bayh, had held for 18 years. He and his family are well-known in a state that is now considered reliably Republican, although Barack Obama won Indiana in 2008.
In the Senate, Bayh was one of the most moderate Democrats, and when he announced his retirement in 2010 he complained of the partisanship and gridlock infesting Capitol Hill.
"I love helping our citizens make the most of their lives, but I do not love Congress," he said at the time. "My passion for service to our fellow citizens is undiminished, but my desire to do so by serving in Congress has waned."
Democrats led by Sen. Chuck Schumer of New York have been working on Bayh for months to bring about a change of heart, an effort that finally appears to have borne fruit. Senate Democratic leader Harry Reid of Nevada also has been involved. "It's going to be good for the country, good for Indiana to have him back," Reid said Monday.
Democrats need to net four or five seats to win back Senate control – four if they hang onto the White House and can send the vice president to break ties in the Senate; five if they don't. With a handful of competitive races around the country, one seat can make all the difference, and putting Indiana in play could be crucial.
In the game of chess that Democrats and Republicans play, even if Bayh can't win his old seat back, his candidacy would force Republicans to spend money in a state they had no plans to invest in. Bayh's campaign chest of nearly $9.3 million dwarfs the $1.23 million cash-on-hand Young announced on Monday.
Republicans scored a similar coup last month, when they convinced Florida Sen. Marco Rubio, a former presidential candidate, to abandon his retirement plans and announce he would seek re-election.
Republicans quickly declared they would hang onto the Indiana seat and signaled their lines of attack against Bayh.
Ward Baker, executive director of the National Republican Senatorial Committee, said on Twitter: "Evan Bayh cast the deciding vote for Obamacare and then left Indiana to live full-time in D.C. Todd Young will beat him this November."
Republicans also distributed research showing Bayh, a partner at the McGuireWoods law firm in Washington, D.C., bought a $2.9 million Georgetown town house last year and an oceanfront Florida condo for $3.9 million in 2013.