Defending champion Lexi Thompson tied for Meijer LPGA lead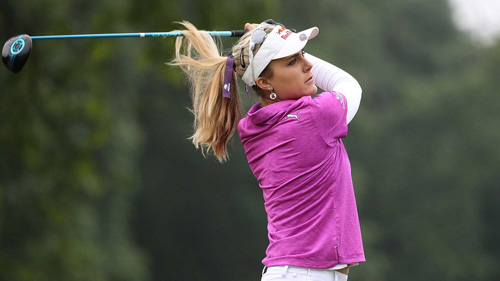 BELMONT, Mich. (AP) — Defending champion Lexi Thompson shot a 6-under 65 on Thursday for a share of the Meijer LPGA Classic lead, with Brooke Henderson, Lydia Ko and Ariya Jutanugarn close behind.
The 21-year-old Thompson played the front nine — her final nine at Blythefield — in 6 under. After parring the first nine holes, she holed out from 71 yards with a lob wedge for eagle on the par-5 first and birdied Nos. 3-5 and 8 — playing the three front-nine par 5s in 4 under.
"I had a slow start for my first nine there on the back, but hit it very well and then got on a birdie run there on my second nine," said Thompson, ranked fourth in the world. "It's definitely playing a little bit softer, so the greens are more receptive than last year. It was a lot firmer last year. The course was playing tough at one point because it got pretty windy."
She was tied for the lead with 52-year-old Laura Davies, Sei Young Kim, Carlota Ciganda and Paula Reto. U.S. Women's Open champion In Gee Chun was at 66 along with So Yeon Ryu, Jodi Ewart Shadoff, Jaclyn Jansen, Alena Sharp, Amelia Lewis and Q Baek.
Henderson, coming off a playoff victory Sunday over the top-ranked Ko in the KPMG Women's PGA Championship outside Seattle, matched Ko with a 67.
Henderson had five birdies and a bogey. The 18-year-old Canadian, up to No. 2 in the world, has 10 top-10 finishes this season. She also won last year in Portland, Oregon.
"It was a pretty solid day," Henderson said. "Four under, I'll take it. Only two back from the lead right now, the leaderboard's pretty crowded with the top names and a ton of really good scores. I'm excited for the rest."
Ko had three of her four birdies on the back nine in her bogey-free round.
"It was a pretty consistent day," Ko said. "I had a few putts where it was close to going in but didn't fall. You've got to commit to your lines and put a good stroke on it. But I'm happy to start with a 67. Especially, that front nine and those first few holes were tough because the wind was getting up and it seemed like the skies were getting dark, too."
Jutanugarn, third last week after winning her previous three starts, bogeyed the last two holes for a 68. She played alongside Henderson.
Thompson won the Honda LPGA Thailand in February for her seventh LPGA Tour title. The long-hitting Florida player also won a Japan LPGA event last month. She rallied to win last year at Blythefield, finishing at 18 under for a one-stroke victory.
"A lot of great memories," Thompson said. "I just replayed a lot of the shots I hit basically the last round. I remembered a lot. There was actually a lot of Sunday pins from last year today."
Davies had seven birdies and a bogey.
"I've been playing well recently, but I haven't been holing any putts," said Davies, a member of the World Golf Hall of Fame. "Today, I holed some putts, so that's what I put it down to 100 percent. I did drive it well, but the putter was the reason."
The long-hitting English player won the last of her 20 LPGA Tour titles in 2001.
"I have a very natural game," Davies said. "I don't have to rely on coaches and that sort of thing. It's just all feel for me, and that's why it's so frustrating to play as well as I've done over the past few years and get nothing from it. So, I'm not saying I'll get anything from this week, but it's a nice start."
Kim, the Founders Cup winner in Phoenix in March, birdied her final two holes. She had eight birdies and two bogeys.
"I shot pretty steady," Kim said. "The greens are really holding, so it should make birdie opportunities very easier."
Reto, from South Africa, had five birdies in a six-hole stretch on her opening nine, then added birdies on No. 3 and 9 — holing an 18-footer on the last. The former Purdue player is winless on the tour.
"I told myself, 'If it goes in, it goes in. I'm going to put a good stroke on it,'" Reto said. "I was really happy that it did go in."
Ciganda had six birdies in a bogey-free round. She's winless on the tour.
"The way it's playing, a little wet, it reminds me a little bit of my home course back in Spain," Ciganda said. "I played very solid today, six birdies, no bogeys. My putting was good, too."
Michelle Wie had a 71. She had a double bogey on the par-4 16th, four birdies and two bogeys. Wie is winless since the 2014 U.S. Women's Open and hasn't had a top-10 finish in 37 events.