Court extends ex-president Lee's detention in corruption probe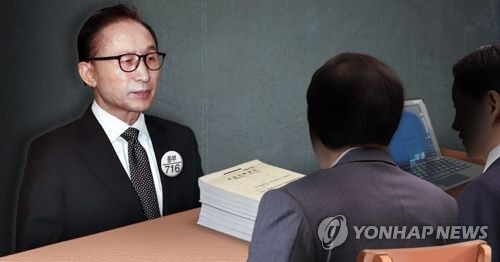 SEOUL, March 30 (Yonhap) — A Seoul court has extended the custody period of former President Lee Myung-bak, who has been accused of corruption, until early next month, prosecutors in charge of the case said Friday.
The Seoul Central District Prosecutors' Office said the court granted its request for an additional 10-day extension on Lee's arrest warrant, which was otherwise set to expire on Saturday. Prosecutors now have until April 10 to continue the investigation with him detained. The law allows up to a 20-day detention before an indictment.
Lee, who was president from 2008 to early 2013, was arrested last Friday on charges ranging from bribery, embezzlement and tax evasion to abuse of power.
The suspicions largely center on an auto parts maker, DAS, that has long been suspected of being secretly owned by Lee, even though on paper it belongs to his older brother. Prosecutors accuse the former president of stashing away slush funds and using DAS as "a reservoir" for his illegal seed money, among other charges.
Prosecutors have tried to question Lee, 76, in the detention center, but he has refused to cooperate, claiming that it is of no use to be asked the same questions again and that his case is being handled unfairly.
Prosecutors have made clear that they will pay another visit soon to the facility for an interrogation. But it is unlikely Lee will change his mind.
The prosecution office later said in a message to reporters that it attempted to question former first lady Kim Yoon-ok at an undisclosed private place on Thursday as a reference witness in the case, but she refused to see them. She is also facing bribery suspicions.