CLINTON TO BASH TRUMP AT SITE OF ATLANTIC CITY CASINO STRIKE
ATLANTIC CITY, N.J. (AP) — Hillary Clinton is coming to Atlantic City to bash Donald Trump's handling of his former gambling empire, but striking casino workers say their beef is with a different billionaire.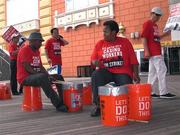 Local 54 of the Unite-HERE union went on strike Friday against the Trump Taj Mahal casino, which bears the name of the presumptive Republican presidential nominee but now belongs to his friend Carl Icahn.
According to a statement from her campaign, Clinton, the presumptive Democratic presidential nominee, intends on Wednesday to highlight Trump's management of Atlantic City casinos in the 1980s and '90s, including three bankruptcy filings under his reign.
The statement said the former secretary of state is coming to Atlantic City "to make the case that Donald Trump is unfit to serve as president based on the wake of destruction his business dealings have left in the seaside town and for businesses and families across the country. Clinton will highlight Trump's history in Atlantic City of multiple bankruptcies, stiffing contractors and spurring hundreds of job losses while pocketing cash for himself."
Trump spokeswoman Hope Hicks didn't respond to a request for comment Tuesday.
But several striking workers who labored under Trump for decades said Tuesday they had no problems working for him. They emphasized their fight is with Icahn, who took control of the casino in March after rescuing it from bankruptcy court. That is where previous owners – after Trump but before Icahn – got a judge to terminate union members' health insurance and pension benefits in October 2014.
Richard Zak, a bartender at the Taj Mahal since the day it opened in 1990, questioned whether Clinton's visit would benefit striking workers.
"It depends if she comes here with her own agenda," he said. "If she comes here to bash Trump, how does that help us? When he was here running the place, things were fine. We never had to worry about a contract, and we were always open during strikes when other places couldn't reach contracts."
Douglas Faulkner has worked as a cook at the Taj Mahal for 17 years. Before that, he worked at the now-shuttered Trump Plaza for 12 years.
"When Donald Trump was here, it was OK," he said. "We had plenty of business."
His beef is with Icahn, whose offer to restore some level of health care last week was rejected by the union as insufficient.
Icahn told The Associated Press on Tuesday that he offered the health care deal he thought the union wanted and was surprised when it was rejected.
"If you look at my record, the last decade alone we bought a lot of bankrupt and down-at-the-heels companies like the Taj. We put hundreds of millions of dollars into them, and today many of those companies are flourishing," Icahn said. "Today we have 93,000 employees; I think most of them are happy."
Icahn said the health plan he offered the union was not as generous as the one he agreed to with the union at the Tropicana, another Atlantic City casino he owns.
"The Tropicana is making money," he said. "This company (the Taj Mahal) is losing a fair amount of money."
Faulkner said he has no health insurance. "I used to have a primary care doctor I went to for my high blood pressure but not anymore," he said. "Things are too expensive when they come straight out of your own pocket."
Zak pays $370 a month for what he described as a "bare bones" health insurance policy under the Affordable Care Act. He wonders if Trump might persuade Icahn to restore the strikers' benefits for the sake of friendship.
"Icahn and Trump are very tight," he said. "You would think he might say, 'Hey, this would cost about $10 million. I'm running for president – help me out here.'"