Choi Soon-sil speaks up amid rising allegations, public anger
SEOUL, Oct. 28 (Yonhap) — President Park Geun-hye's longtime confidante at the center of an escalating influence-peddling scandal pledged Friday to cooperate with the ongoing prosecutorial probe, stressing she is well aware of the "gravity" of the case that has plunged Park into the greatest crisis of her political life.
Her comment came a day after Choi made her first appearance since the outbreak of the scandal by holding an interview with South Korea's daily Segye Times. In the report, Choi admitted receiving presidential documents before they were publicly delivered while denying other allegations that she was involved in suspicious fundraising by public foundations that are currently under investigation.
Lee Kyung-jae, a lawyer from a local law firm that represents Choi, said he will make efforts to reveal the truth.
"There are many heartbreaking issues related with her personal life," the lawyer said when asked why Choi departed Korea for Germany. The lawyer, however, declined to comment whether Choi denies the wrongdoing, adding that the investigation must first refine the details of the allegations.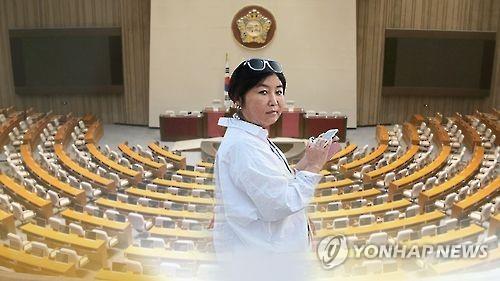 Choi, who has known the president for some 40 years, is the fifth daughter of Park's late mentor Choi Tae-min, a leader of a questionable religious group who died in 1994. Observers said Park developed a friendship with the Choi family after her mother and then-first lady Yook Young-soo was assassinated in 1974.
The South Korean public has been casting watchful eyes on the scandal, with some even claiming that the case may have a religious connection, although Prime Minister Hwang Kyo-ahn ruled out such assumptions. Choi's father reportedly founded a religion in the 1970s that combined Buddhist, Christian and indigenous faith practices.
"Choi is ready to receive punishment if investigations reveal any lawbreaking activities," he said, adding Choi has no intention to flee or hide.
She, however, asked for "mercy" concerning her daughter through the lawyer. She earlier said in the interview that she traveled overseas to "protect" the daughter, who is also embroiled in controversy on speculations that she was unfairly accepted to Seoul-based Ewha Womans University. Some of the university's students argued that Choi's daughter received relatively higher grades compared to her actual achievements.
The emotionally appealing remark by Choi's legal representatives came amid mounting anger among the South Korean public.
Reflecting the sentiment, local pollster Gallup Korea said Friday that Park's approval rating was at 17 percent from Tuesday to Thursday this week, marking an 8 percentage point drop from a seven-day period earlier. It marks the lowest rating since she took office and a decrease for the sixth consecutive week.
A whopping 74 percent of the respondents were negative about Park's achievements in state affairs, soaring 10 percentage points on-week.
When just considering Wednesday and Thursday — after Park expressed an apology — the approval rating even crashed to 14 percent.
Amid the escalating aftermath of the scandal outbreak that is seen by many as a challenge to South Korea's Constitution, the presidential office reportedly struggled to find measures to settle the issue.
A presidential official said Park is pondering how to "unwaveringly" manage state affairs and address public concerns over a sprawling influence-peddling scandal involving her longtime confidante.
"President Park is pondering in multiple ways how to address public anxiety and how to unwaveringly run the country," the official at the presidential office Cheong Wa Dae told reporters, declining to be identified.
"Citizens appear to be in a state of shock, and (we) feel sorry about it," he added.
Touching on the series of allegations surrounding Choi, the official said that Cheong Wa Dae itself is making its own efforts — separate from the ongoing prosecutorial probe — to verify the "basic facts."
Amid the ongoing probe by state prosecutors, calls have been growing for the prosecution to directly investigate the presidential office as well. Some have raised concerns that Cheong Wa Dae could take steps to destroy evidence.
"In light of the calls for the presidential office to cooperate more with the prosecutorial investigation, it is not like Cheong Wa Dae is doing nothing with regard to that," the official pointed out.
Due to escalating public furor over the Choi scandal, Park canceled her plan to host a luncheon with some members of the Presidential Committee for Unification Preparation — a move analysts say indicates how much the scandal has been weighing on the president.
The ruling party chairman, meanwhile, held a private meeting with President Park Geun-hye to push for a prompt investigation and personnel reshuffle. During the closed-door meeting, Rep. Lee Jung-hyun of the Saenuri Party asked Park to start an investigation, adding there must be action taken to make her come back to South Korea to be investigated.
Lee, however, declined to comment on the reaction made by the president, only adding she was "positive" on the suggestions.
Cho In-geun, Park's former speechwriter, meanwhile, said that he did not know anything about Choi. Cho said he had never imagined that anybody had "touched" drafts of presidential addresses before they were finalized by the president. Cho had served as Park's secretary in charge of public speeches until July.
Investigators have already been conducting probes into the Mir Foundation and the K-Sports Foundation. There have been allegations that money at the foundations — established in 2015 and early this year, respectively — was funneled to Choi.
Lee Seung-cheol, vice chief of the Federation of Korean Industries, appeared before the Seoul Central District Prosecutors' Office in southern Seoul on Friday to undergo questioning over the two foundations.
The lobby, which has companies like Samsung and Hyundai as its members, is said to have spearheaded the collection of around 80 billion won (US$70 million) from conglomerates for the two foundations. Lee is suspected of having played a role in the process.
Investigators added they are currently recovering the abandoned tablet PC presumed to be once owned by Choi at her old office, although they have not yet found meaningful files.
South Korea's ruling and opposition parties have both been making efforts to kick off a special investigation on Choi, although they failed to narrow gaps in details.
On Thursday, South Korea's three major parties kicked off discussions on nominating a special prosecutor to look into the allegations. The parties, however, failed to reach any resolution, as they remained at odds on how to proceed with the investigation by an independent counsel.
The ruling party prefers to use the existing special prosecution system under which the president is to play a part in the selection of an independent counsel, while the main opposition has rejected that idea and has called for the introduction of a special bill to enact a special investigation.
The minor People's Party suggested an investigation led by opposition parties and civic groups, casting further confusion into the talks.
"Saenuri must first express an apology to the people. There must be the resignation of Woo Byung-woo, senior presidential secretary for civil affairs," Rep. Choo Mi-ae, the opposition head, said. "All those who supported Choi must step down (before continuing the negotiations)."
An official from Saenuri, however, criticized the opposition party for leaving the negotiations, adding that an opposition-led investigation will lack political neutrality.
"The opposition party is just planning to drag the scandal out over a long period to manipulate it with political intentions," another Saenuri official said, adding that it will be complicated to reach an agreement.
Despite the strong push for an investigation from both parties, however, the opposition bloc mostly refrained from calling for resignation or impeachment, casting concerns over the negative consequences ahead of next year's presidential election.
The minor Justice Party is currently the only entity at the National Assembly to have officially called for Park's resignation.