Chinese fans buy up BigBang's concert tickets in 9 min
SEOUL, July 22 (Yonhap) — Chinese fans bought up tickets for a special concert by South Korean idol group BigBang in less than 10 minutes, ready to surge to the peninsular country next month, the band's agency said on Friday.
The tickets for "BigBang10 The Concert: 0.TO.10," a celebratory concert for the five-member K-pop group's 10th anniversary, sold out only nine minutes after the sales began, according to BigBang's management agency YG Entertainment. The ticket sales started at 11 a.m. on Monday by Chinese online and mobile ticket box office platform Xiaoge Entertainment.
The ticket sales created a massive booking war online and on mobile, with about 2 million users visiting the reservation page in total. At its peak, as many as 1.6 million users simultaneously connected to the reservation site, according to YG's data.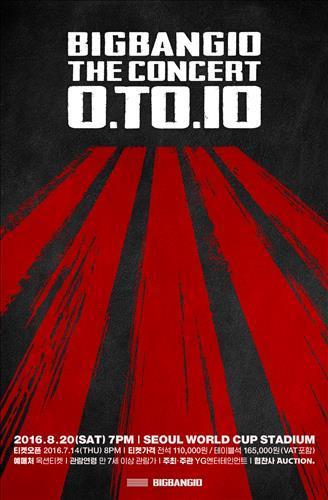 The Chinese ticket sales business came after YG attracted investment from China's Weiying, the mother company of Xiaoge Entertainment, in May.
"In the past, it was mostly the K-pop artists who went on overseas trips to meet their international fans," said an official of YG Entertainment.
"With this recent case, however, we could see how the international fans could easily purchase tickets online (in their home countries) and later visit South Korea for the concert. This is a new opportunity for the domestic music performance market."
BigBang's special concert will welcome about 60,000 concert-goers to the Seoul World Cup Stadium on Aug. 20 at 7 p.m. in northwestern Seoul.