China executes 2 South Koreans for dealing drugs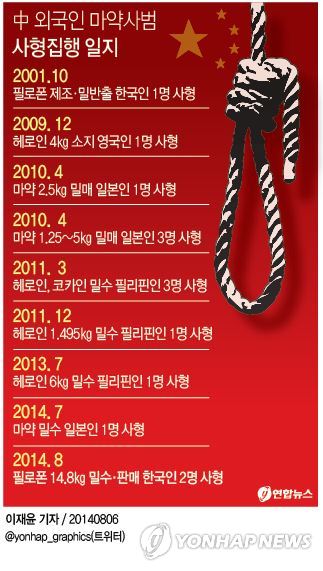 By Yi Whan-woo
China executed two Korean nationals Wednesday for drug offenses despite repeated pleas for clemency from the Korean government, according to the Ministry of Foreign Affairs.
The two men had been convicted of distributing and selling methamphetamine and were killed by lethal injection, the ministry said. They are identified only by their surnames, Kim and Baek.
Kim, 53, was convicted of smuggling a total of 14.8 kilograms (about 33 pounds) of methamphetamine into China between 2010 and 2011, during 14 trips there from North Korea. Baek, 45, bought 12.3 kilograms (about 27 pounds) of the drug from Kim and distributed it to drug rings in South Korea.
The two were arrested in Jilin Province on April 16, 2011. China's highest court upheld their death sentence this past March, the ministry said.
This is the first time since 2004 that China has executed any Korean nationals, according to the government.
"It is regrettable that our nationals were executed in China for drug smuggling," ministry spokesman Noh Kwang-il said during a press briefing.
"The government delivered a message to China, urging it to take a humanitarian approach in this case … Their families and representatives of our consul in China visited them before the execution. The government will do all we can to assist the bereaved families to bring the bodies back to Korea."
China rejected Seoul's request for clemency, saying its policy was to impose the same strict punishment against both domestic and foreign drug dealers.
China has executed one Briton, five Japanese, five Filipinos and one Pakistani for drug offenses since 2009.
"They were each executed for dealing about 3 to 4 kilograms (6-9 pounds) of drugs, far less than the amount the two Korean dealers were caught dealing," a ministry official said asking not to be identified.
According to the Korean consulate in Qingdao, Chinese authorities are scheduled to execute another Korean man, surnamed Jang, 56, sometime this week.
Jang was convicted of smuggling 11.9 kilograms (about 26 pounds) of methamphetamine and subsequently sentenced to death. An appeals court upheld the death sentence in June last year.
China has executed three Korean nationals in its history. In 2001, a man surnamed Shin was executed for smuggling drugs. In 2004, a man in his 60s was executed for murder and desecrating human remains in Qingdao.