'Casting a Spell'
ABC's Executive Vice President of Casting Keli Lee
Her finds include Yunjin Kim ('Lost') and Aaron Yoo ('Disturbia')
By Eun Sun Ha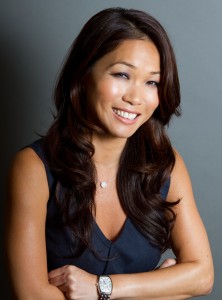 She can usually tell within 10 seconds whether you have it or not. And, if she likes what she sees, or to be more specific, would like to "continue to see" you on screen, then the casting process would start immediately. It's as simple as that.
It may sound presumptuous to some, but it's hard to argue with her track record. After all, she picked out Yunjin Kim of 'Lost' fame (and now starring in 'Mistresses'), Randall Park of the feature film 'Larry Crowne' starring Tom Hanks, and Aaron Yoo of 'Disturbia,' just to name a few.
Her name is Keli Lee, executive vice president of casting at ABC Entertainment, and her keen eye enabled her to soar through the ranks at ABC.
She's has led TV show casting at ABC for more than 20 years now and this summer was no different. She spent the entirety of her summer reviewing monitors, trying to pick out another 'diamond in the rough.' Her ability to continually do so is what separates her from others.
Lee says that ABC's pioneering efforts in the talent showcase field opened doors for minority actors and actresses, giving them long sought-after opportunities. Over 14,000 people have auditioned so far and 432 of them have appeared in over 30 showcases. Yunjin Kim, Randall Park, Aaron Yoo are all said to be beneficiaries of this program.
Lee was born in Korea, and immigrated with her family when she was 2 years old. She attended New York University and majored in Philosophy. She was preparing to go on to law school, as her parents wished, when a 12 dollar per hour part-time job at Manhattan's famous Caroline's Comedy Club changed her views forever.
Caroline's, at the time, was 'the place to be' for all casting agents and directors. After all, it was the place Jerry Seinfeld, who went on to star on 90s most popular sitcom "Seinfeld', and many other stars were discovered.
A job in the entertainment industry became more attractive to her and her efforts eventually led her to an internship at Warner Brothers Studio in New York.
In 1991, she got her first casting job when she was hired by ABC Entertainment and as they say, the rest is history. In just four years, she was promoted to ABC's prime-time casting associates director and her career got on the fast track. In 1995, she was named  Touchstone Pictures/Walt Disney Network TV's casting director and moved to Los Angeles. She then went on to become broadcasting department manager in 1997, ABC Entertainment TV Group Vice President of Casting in 1999, Senior Vice President in 2003, and Executive Vice President in 2005. During the course of her career, she worked on shows that include 'Desperate Housewives,' 'Lost,' and 'Grey's Anatomy.'
She has one piece of advice for aspiring actors and actresses: only those who continue to hone their craft and work hard can succeed in this industry. Especially for minority actors and actress, continual hard work is the only way to rise above the fierce competition and achieve your goals. There's no substitute.