CANADIAN ROOKIE MACKENZIE HUGHES WINS SEA ISLAND PLAYOFF
ST. SIMONS ISLAND, Ga. (AP) — Mackenzie Hughes figured he was down to his last chance to stay alive in a four-man playoff Monday morning in the RSM Classic.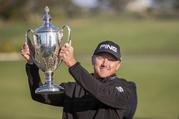 The Canadian rookie with pluck and a pure putting stroke poured in an 18-foot par putt from off the 17th green at Sea Island, and that last chance turned into his first PGA Tour victory when the other three players all missed from 10 feet or closer.
"I made the putt of my life right there," Hughes said.
Hughes calmed his nerves and came up clutch in the 42-degree chill, becoming the first PGA Tour rookie in 20 years to go wire-to-wire for his first victory. The final day of a long year on the PGA Tour brought a most unlikely finish.
Hughes had a chance to end it Sunday night until his 10-foot birdie putt in the dark on the 18th hole turned away. The next morning, he was the only player who was never on the green at the par-3 17th until his ball was in the cup.
Blayne Barber, Henrik Norlander and Camilo Villegas narrowly missed their par putts to extend the playoff.
Hughes was watching from off the green, and the prospect of winning became more real with each putt that missed – first Barber, then Norlander. And when Villegas missed his 7-footer, Hughes dropped his putter, turned his back on the green and knocked off his cap as he rubbed his head in disbelief.
"If I didn't make, I thought I was probably out," Hughes said. "Before I hit it, the thought was, 'Just make them think about it.' Put this putt in first, and if you can be the first guy in, put the pressure back on them. And that's what happened."
The victory sends the 25-year-old Canadian to the Masters. One of his most vivid golf memories as a kid in Ontario was watching Mike Weir win the green jacket in 2003.
"He was texting me last night a little bit," Hughes said. "It's pretty cool to have a guy like that to lean on for advice."
Billy Horschel was eliminated from the five-man playoff on the first extra hole Sunday night when he narrowly missed a birdie putt, then shockingly missed a 2-foot putt. Hughes putts so well it was mildly surprising when he missed his 10-foot putt on the second playoff hole.
"It ate at me a little bit knowing that I had 10 feet to win it," he said. "But I came out here to try to clear my mind, tell myself that I have a one-in-four chance."
The odds looked worse when his 4-iron bounded over the green and down a steep slope. Making the pitch shot even more difficult is that the pin was 15 feet from the back edge, and the green ran quickly away from him. His pitch was a few feet from being perfect, but instead it stopped short of being on the green.
Norlander was in the front bunker, while Barber was left of the green and Villegas was just over the back. Barber and Villegas used putter for their second shots.
The last rookie to go wire-to-wire for his first win was Tim Herron at the 1996 Honda Classic. Hughes started this week with a 61, and he led after every round until he was posing with tournament host Davis Love III with the trophy.
Hughes, who closed with a 69 and finished at 17-under 265, capped a memorable fall season.
He began his rookie season by playing the final two rounds with Phil Mickelson and tying for 13th at the Safeway Open. Mickelson's caddie, Jim Mackay, said in a text message Saturday night, "I really like his moxie, he's got guts."
In his only week off this fall, Hughes and his longtime girlfriend from Kent State, Jenna, were married. They plan a honeymoon in the offseason, and now he gets to plan a schedule that includes Kapalua, Augusta National and the PGA Championship in Charlotte, North Carolina, where he lives.
Hughes earned $1.08 million.
Villegas and Norlander do not have full PGA Tour cards, and a victory would have changed that. Villegas got into the field as a past champion, while Norlander has no PGA Tour status and received a sponsor's exemption.
Villegas had made every big putt, from his birdies on the 16th and 17th in regulation to his 6-foot par putt on the 72nd hole to join the playoff, and another tough 4-foot putt in the dark Sunday night to stay alive. He missed from 7 feet Monday.
"I just pushed it a tiny bit," Villegas. "But once again, I'm proud of myself. We want to win a golf tournament, so you go with a little bittersweet, but you've got to look at the positive and keep moving forward."