BREXIT VOTE ROILS LONDON REAL ESTATE MARKET
LONDON (AP) — Henry Pryor, who has helped people buy homes in London for more than 30 years, says only war would be a bigger threat to the housing market than the conditions it faces now after Britain's vote to leave the European Union.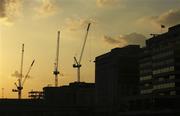 In addition to the vote, the prime minister has resigned, the main opposition is in disarray, and there may be early Parliamentary elections. And Donald Trump may become U.S. president, something Pryor argues would add further uncertainty to the global economy.
"Any one of those five would have been enough to frighten the housing market," he says. "The only thing more dramatic than where we are now is if we were at war."
While his level of pessimism isn't universally shared, the EU referendum and its aftermath are striking fear in Britain's real estate markets. The market has been inflated for years by economic growth and speculation, including by foreign investors looking for a piece of the wealth and stability of London. Now Britain's vote to leave the EU has raised concerns about an economic downturn as well as the possibility that some companies might have to move business to mainland Europe to retain access to the EU's single market.
"Recent events have spooked markets – with good reason," analysts from Barclays bank wrote in a note to clients Thursday.
Those concerns saw investors rush to sell out of British commercial real estate this week. At least six investment firms suspended redemptions in their U.K. commercial real estate funds, and shares of publicly traded builders such as Land Securities Plc and Taylor Wimpey plunged.
"It's not a seller's market at the moment," said Hemant Kotak, managing director of Green Street Advisors, a real estate research firm. "If everyone tries to rush for the door at the same time, then there's a bit of a panic."
While Kotak stressed it is too early to know for sure what the economic impact of an EU exit will be, a report issued by the company after the vote found that even if Britain's divorce from the EU is amicable, demand for office space is expected to be hit hard, with banks and financial firms downsizing and moving staff to other nations in the bloc. Their base case assumes London could lose 75,000 jobs, or about 15 percent of the financial industry's workforce.
In commercial property, buyers are re-examining projects in the pipeline – but many had already been pulling back in caution in the weeks before the vote. Property agents Cushman & Wakefield said investment into central London real estate almost halved in the first six months of 2016 from a year earlier as the vote approached. Investors spent 7.5 billion pounds ($9.8 billion) in the period, down from 13.3 billion pounds a year earlier.
Take, for example, Germany's Union Investment Real Estate, the biggest open-ended real estate manager in Germany. It pulled out of what it described as a "speculative" investment in the U.K. six weeks before the referendum, spokesman Fabian Hellbusch said.
"It was too risky for us," he said, even though he stressed that the company would be open in the future to other deals in the U.K. "We haven't changed our mind about buying core property."
While forecasts for price declines in commercial real estate are hard to make, experts do not expect a collapse, noting the sector is in better shape than it was going into the 2008 financial crisis. The long time frame needed to buy and sell a big real estate project insulates the market from short-term volatility. Also, foreign investors remain interested in the long-term and good deals can be found. And the current uncertainty is being driven less by concern about an economic slump than by the unexpected political turmoil that followed the referendum.
"At the moment people are pausing for breath and waiting to see what happens," said Mark Payne, a partner at the law firm Clifford Chance. "People think there will be an effect on values, but no one is sure what the values are at the moment."
The uncertainty comes as surveys suggest there is an increasing amount of office space about to come on the market in central London. Construction activity has nearly doubled from 7.7 million square feet in late 2014 to over 14 million square feet now, said Mike Cuthbert, head of construction advisory at Deloitte Real Estate.
The company, in an annual crane survey completed before the vote, forecast that 38 million square feet of office space would be delivered by 2020. But projects were already being delayed by lack of skilled labor, insufficient experienced construction managers, and a lack of design team resources.
"In the short term, we expect these pressures to be exacerbated by Brexit and a weaker (pound)," Cuthbert said in an email. "However, in the medium term, we envisage that these pressures will ease as schemes are deferred and capacity returns to the market."
Things are also unsettled in the housing market, where prospects have deteriorated after the Brexit vote, according to Howard Archer, chief European economist at research firm IHS Global Insight.
Even before the referendum, in June, the average London house price fell 0.2 percent amid uncertainty about the outcome, according to the latest survey by Rightmove, the U.K.'s largest property website. Some suggest the housing market is ripe for a substantial drop – asking prices have risen 55 percent to an average of 643,117 pounds ($832,785) since June 2010.
"Housing market activity and prices now look to be at very serious risk of an extended, marked downturn following the U.K.'s vote to leave the EU," Archer wrote. "This is likely to weigh down markedly on economic activity and consumer confidence, which is not good news for the housing market."
Newlywed Jon Dean, 29, knows that all too well. He's trying to sell a property in north London so he and his new bride can buy a home of their own. But potential buyers want a discount in the aftermath of the vote, and the offers he was getting were lower than the lowest he was prepared to accept.
"I'm taking mine off the market for a little while to see how things go," he said. "I think people are going to be more cautious now."