BOLT SAYS THIS IS GOODBYE; LOCHTE SAYS HE'S SORRY
RIO DE JANEIRO (AP) — Usain Bolt seeks to say his goodbye with another gold medal Friday night at the Rio de Janeiro Games, where another Olympic juggernaut – the U.S. men's basketball team – faces Spain in the semifinals.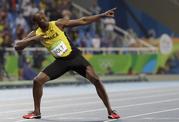 A day after winning another gold in the 200 meters, Bolt will appear in what he has insisted will be his final Olympic race. He'll look to add to his medal stash as part of the Jamaican team in the 4×100 relay finals. Bolt led the Jamaicans to the top of the podium in the event in Beijing and again in London, where the team set the world and Olympic records.
While Bolt is saying goodbye, Ryan Lochte is saying he's sorry.
Breaking his silence, Lochte apologized Friday for his behavior surrounding an early-morning incident at a Rio de Janeiro gas station, saying he should have been more candid about how he described what happened after a night of partying with his teammates following the final swimming races.
Day 14 of the Rio Games features medal action in track and field, soccer, wrestling, boxing, platform diving and more.
The American women's 4×100 relay team will try to capitalize on its reprieve following a collision on a handoff at the Olympic track stadium, and Germany and Sweden meet in the first all-European Olympic women's soccer final.
Lochte said in a lengthy post on Instagram that he was apologizing for his role in taking the focus away from other Olympic athletes.
"This was a situation that could and should have been avoided," Lochte said. "I accept responsibility for my role in this happening and have learned some valuable lessons."
The 12-time Olympic medalist reiterated his view that a stranger pointed a gun at him and demanded money to let him leave a gas station. Lochte had called it a gunpoint robbery; Brazilian police said he and three other swimmers vandalized a bathroom while intoxicated and were confronted by armed security guards.
Lochte returned to the United States early in the week before a Brazilian judge had ordered his passport taken away while police investigated his claims of getting robbed at gunpoint by thieves posing as police.
Other highlights from Day 14 of the Rio Games:
WRESTLING UPSET: Defending Olympic and world champion Jordan Burroughs was stunned in the quarterfinals of men's freestyle wrestling. It was the third international loss for Burroughs, who won gold in London in 2012 and whose charismatic, social media-friendly persona has made him the face of wrestling in the U.S.
BAD BET : The Olympics are no Super Bowl, at least with the bettors. The Rio Games are the first since 2000 on which Nevada bookmakers have been allowed to take bets. Aside from basketball, there hasn't been much interest, however. Seems fans aren't as willing to lay down money on sports they only pay attention to every four years.
MILESTONE & MEDAL : Christine Sinclair scored in her 250th international match and Canada returned to the Olympic podium with a 2-1 victory over hosts Brazil for the women's soccer bronze medal. Seventeen-year-old Deanne Rose scored Friday in the 25th minute for Canada, becoming the youngest woman to score in the Olympics.