BAYLOR IS NO. 1 IN AP POLL FOR 1ST TIME, 'NOVA FALLS TO 3RD
Baylor is No. 1 in The Associated Press men's basketball poll for the first time.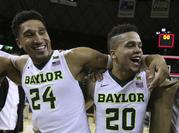 The Bears (15-0) have made a meteoric rise in the poll, going from a team that didn't receive a vote in the preseason poll to one that received 55 first-place votes from the 65-member national media panel on Monday.
Baylor is the 59th school to be ranked No. 1 since the poll started in the 1948-49 season. The Bears will be tested on top right away, playing at West Virginia on Tuesday and at Kansas State on Saturday.
Villanova, which received one first-place vote, had been No. 1 for the last five weeks, but the Wildcats (15-1) dropped to third after losing at Butler last week.
Kansas (14-1), which was No. 1 on eight ballots, moved up from third to second, giving the Big 12 the top two teams in the poll.
UCLA (16-1), which got the other first-place vote, stayed fourth.
Gonzaga (15-0), the only other unbeaten Division I school, and Kentucky remained fifth and sixth, while Duke, Creighton, Florida State and West Virginia rounded out the top 10.
North Carolina was 11th followed by Butler, Oregon, Louisville, Xavier, Arizona, Purdue, Wisconsin, Virginia and Notre Dame.
The last ranked teams are Saint Mary's, Cincinnati, Florida and Minnesota, with Kanas State and Southern California tied for 25th.
Minnesota moved into the rankings for the first time since 2012-13, when the Gophers were in the poll for 11 weeks, reaching as high as No. 9. Minnesota's arrival means there's a father-son duo in the Top 25 with Kentucky coach Rick Pitino and Minnesota coach Richard Pitino.
Kansas State was last ranked for two weeks in 2013-14.
Virginia Tech (12-3) dropped out from 21st after losses to North Carolina State and Florida State. The Hokies had been ranked for just one week.
Indiana (11-5) was ranked 11th in the preseason poll and had reached as high as No. 3. But the Hoosiers' loss to Wisconsin last week was their third straight.
There are nine games this week between ranked teams. In addition to Baylor at West Virginia, the other game between top 10 teams is Duke at Florida State on Tuesday.
The Atlantic Coast Conference leads the way with six ranked teams while the Big 12, Big East and Pac-12 have four each.