AUTHORITIES: KANSAS OFFICER'S SHOOTING DEATH NOT AN AMBUSH
KANSAS CITY, Kan. (AP) — The fatal shooting of a Kansas City, Kansas, police officer was not part of a planned ambush, but the work of "another criminal" trying to evade arrest, authorities said Wednesday.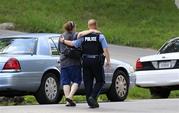 Police Chief Terry Zeigler said during a news conference that authorities have two young men in custody, but declined to give details about possible charges. The department is working with prosecutors and planned to present the case to them "hopefully later today," Zeigler said, though the Wyandotte County district attorney's office said charges were not expected Wednesday.
While the attack isn't part of the recent string of shootings of police in the U.S., Zeigler said the hate against police must stop.
"This crime does not fit into the national narrative of planned attacks against law enforcement officers, but it does fit the narrative when it comes to the fact that words matter. The hate and anti-police speech has got to stop because the consequences are real," said Zeigler, who paused briefly to compose himself at the news conference.
Capt. Robert Melton was by himself searching for a suspect in a drive-by shooting when he drove up to someone who matched that person's description just before 2 p.m. Tuesday. Before the 46-year-old could get out of his vehicle, he was shot several times through his passenger-side window, the chief said, adding that the department was reviewing its procedures.
Mayor Mark Holland also said it doesn't appear that Melton's death "was a planned ambush against police" and that the death is "another example of another criminal trying to escape arrest."
Melton was a 17-year veteran of the department. He had also served in the Kansas Army National Guard and was deployed to Iraq and Afghanistan before he retired in 2012, according to the guard. Melton had also been awarded several military honors, including the Bronze Star Medal and the Meritorious Service Medal with oak leaf cluster.
Melton, whose partner is expecting a child, also leaves three other children from previous relationships, police said. His family has asked for privacy.
At police headquarters, people have been leaving cards and flowers, which the department has arranged on a table draped in blue cloth and bearing Melton's photo. Kathryn Courtney, 31, of Kansas City, Kansas, brought a bouquet of yellow daisies Wednesday. She said she had known Melton for nearly 20 years, describing him as "born to protect and serve" and "a wonderful man with a heart of gold."
"Officers come to work every day knowing they may have to die in the line of duty," Zeigler said. "Most of us go through our careers and never have to experience that."
It's the second time a Kansas City, Kansas, police officer has been shot and killed this year. In early May, detective Brad Lancaster was fatally shot near the Kansas Speedway, and Melton had served in the police honor guard at Lancaster's funeral. The shooting also comes as police departments across the country are on edge after ambush attacks left eight officers dead in Texas and Louisiana.
Mayor Mark Holland of the Unified Government of Wyandotte County referenced Lancaster's shooting Wednesday, saying that the community is still healing from that shooting, which was the first in the department in 19 years. Melton's "death reopens a raw hurt still festering within our community," Holland said.
Melton was brought to the University of Kansas Hospital just before 2:30 p.m., but resuscitation efforts did not work, trauma surgeon James Howard said Tuesday.
The shooting happened after police responded to a report around 1:30 p.m. from a person who said several people in a car were firing shots. The suspect vehicle took off as police arrived, but it crashed into a fence and the occupants bailed out at 1:36 p.m., police spokesman Tom Tomasic said Tuesday.