ARCTIC AIR BRINGS FRIGID TEMPERATURES TO MIDWEST, MOVES EAST
MINNEAPOLIS (AP) — Arctic cold brought frigid temperatures to the Upper Midwest again on Wednesday and the cold was expected to spread east later in the week.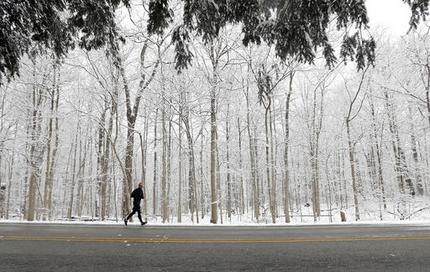 The National Weather Service issued a wind chill advisory Wednesday for all of North Dakota, Minnesota and Wisconsin, and parts of Montana, Wyoming, South Dakota, Iowa, Illinois, Indiana and Ohio.
Fargo, North Dakota, was four below zero early Wednesday, while Duluth, Minnesota was two below zero. Highs Wednesday will range from 20 to 30 degrees below average. Temperatures will remain well below zero in Minnesota and Wisconsin on Wednesday night.
The Arctic cold is expected to spread across the northeastern United States while the Midwest remains frigid through the work week, forecasters said.
Much of the northern Mid-Atlantic and Northeastern states will stay cold for the next couple of days as the arctic air remains stuck over the northern Appalachians, the National Weather Service said.
The system also is expected to bring widespread snow from the Great Lakes to the Northeast on Thursday. Much of the central U.S. will be dry but cool.
Below-normal temperatures are expected this weekend and into Monday across the entire northern half of the country, from the Pacific Northwest to Maine and as far south as Oklahoma, Arkansas and Virginia, according to the Climate Prediction Center.
Up to half a foot of snow also could fall from the Upper Mississippi Valley to the Northeast on Friday and Saturday, and areas east of the Appalachian Mountains could see freezing rain and sleet on Saturday.
Another arctic air mass on the heels of this cold front is expected to bring temperatures to the northern Plains over the weekend and into early next week that will be as much as 24 degrees below normal, according to Climate Prediction Center forecaster Stephen Baxter.