Analysts cast rosy outlook for Asiana Airlines
SEOUL, Aug. 5 (Yonhap) — Asiana Airlines Inc., a major South Korean flag carrier, is expected to see its earnings improve down the road thanks to an overhaul of unprofitable routes and sales of noncore assets, analysts said Friday.
In a note to clients, Daishin Securities Co. said the airline has started turning around as it swung to a profit on an operating-income basis in the second quarter of this year.
Asiana's operating profit came to 28.8 billion won (US$25.9 million) in the April-June period, compared with a loss of 67.1 billion won a year earlier. The company attributed the turnaround to a jump in the number of local residents going abroad and strong demand in China, Japan and Southeast Asian nations.
"Asiana is in the middle of making a breakthrough by selling nonessential assets and streamlining unprofitable overseas routes," said Lee Ji-yoon, an analyst at Daishin Securities. "Air Seoul is preparing to serve Asiana's nine unprofitable overseas routes."
Asiana said it has successfully sold its noncore assets, including a 50 percent stake in Kumho Asiana Plaza Saigon, as part of debt reduction efforts.
Air Seoul, which started to fly on domestic routes, is the second airline subsidiary of Asiana, which already operates Air Busan.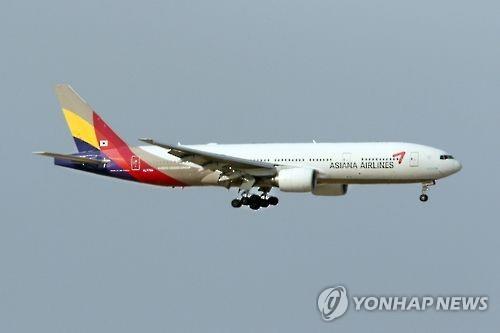 Lee offered a more upbeat outlook for Asiana, predicting the airline will likely register an operating profit of 111 billion won in the third quarter, up 59.7 percent from a year earlier.
Hana Financial Investment Co. echoed the view, saying the airline is expected to see its operating profit shoot up nearly 60 percent in the July-September period.
"Asiana's profitability is expected to turn for the better in the third quarter, bolstered by cost-cutting efforts and the streamlining of long-haul routes," Shin Min-seok of Hana Financial Investment said in a research note Wednesday.
Asiana is projected to rack up 111.2 billion won in third-quarter operating profit, up 60.4 percent from the same quarter a year earlier, with its fixed costs likely to drop from the last quarter on the overhaul of unprofitable routes, Shin added.
Daishin Securities retained its price target on Asiana at 6,000 won, while Hana Financial Investment raised it to 7,000 won from 6,000 won and upgraded its investment rating to "buy" from "neutral."
Shares of Asiana closed at 5,240 won on South Korea's main stock market Friday, up 1.35 percent from the previous session.