A 'VULNERABLE' STEELE WINS PGA TOUR SEASON OPENER
NAPA, Calif. (AP) — By the end of the opening week of a new PGA Tour season, no one felt more vulnerable than Brendan Steele.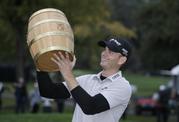 Winless since his rookie season five years ago, Steele was confronted with some bad memories of Silverado when he three-putted the 12th hole on Sunday in Safeway Open. It was the same hole where last year he began a sloppy stretch of five bogeys in six holes that sent him to a 76 and cost him a chance to win.
He was trying not to make mistakes last year. Now he had to try to make birdies.
And he would have to make them with a conventional putter, having never won with anything but the long putter. Steele switched to a short putter when the rule that outlawed the anchored stroke for long putters first was proposed in 2014. He had done fine with it, though he still had doubts he could make putts when they mattered.
He made birdie with a great lag on the par-5 16th. He rolled in an 18-footer for birdie on the 17th. And he made a 7-footer on the 18th, his third straight birdie that carried him to a 7-under 65 and – finally – another PGA Tour victory when Patton Kizzire faltered and couldn't catch him.
"That's really a sweet feeling to know that I can do it under those circumstances," he said.
Before long, he was headed to Malaysia, the next stop on a long PGA Tour season that began in Napa Valley just three weeks after it ended in Atlanta.
The season-opening tournament that began with promise ended in the rain.
This was supposed to be the week where Tiger Woods returned to the PGA Tour for the first time in 14 months. Instead, he mysteriously withdrew just three days after he committed to play, saying his game was "vulnerable" and not where it needed to be.
The opener still had Phil Mickelson, playing a domestic event in the fall for the first time in a decade, andMickelson still managed to have an influence with a surprisingly large gallery for the dour weather over the last three days.
Mickelson ended a third straight year without a victory, though he tried to make it interesting on the back nine with a pitch shot from the mud to 4 feet that offered the promise of a late charge, only to miss the putt and too many other chances.
He still tied for eighth, raising his career total over 25 years on the PGA Tour to finishing in the top 10 in one-third of his events.
And he had an influence on Steele.
Mickelson took Steele and another rookie, Keegan Bradley, under his wing in 2011 and played one of his fabled money games with them at The Players Championship. The stakes weren't high – they were only rookies, so Mickelson set the wager at a mere $50 – but the idea was to teach them to play to win.
Steele already had won a month earlier at the Texas Open, and he shared the 54-hole lead at the PGA Championship later that year in Atlanta, which Bradley wound up winning in a playoff. Steele thinks now early success might have been too much, too soon. So he sought out Mickelson over the last year and asked him for tips on how to play down the stretch. Mickelson's answer was to play to win, and it worked for Steele.
He needed some help, typical of most tournaments.
Starting the final round four shots behind, he got in the mix and still was two shots behind Kizzire, who looked like a winner when he stuffed his tee shot on the 11th hole to 2 feet for a birdie. Kizzire started missing fairways. The only putts he made were for par. He had birdie chances on the last three holes and missed out with a poor tee shot (No. 16), a poor wedge (No. 17) and a 9-iron that missed the green on No. 18.
Kizzire wasn't the only player who left Silverado feeling as though he had let one slip away.
Paul Casey, Scott Piercy and Johnson Wagner all had their chances. Wagner finished with eight straight pars. Casey and Piercy dropped shots at the wrong time. Casey had his fourth straight finish in the top 4 dating to the FedEx Cup playoffs.
"So close, isn't it?" Casey said. "I mean, I played great. I had another wonderful week."
Steele now gets to go back to Augusta National, where he hasn't been since 2012 and started to wonder if he would ever play again.
Mickelson headed into a three-month offseason. He won't show up again until the California desert.
The question leaving wine country was when anyone would see Woods at a golf tournament. Woods said his next target was the Hero World Challenge the first week of December in the Bahamas, an 18-man field of low expectations and even less stress.
Still unanswered is what happened to his game in three days from the time he entered (Friday) until he withdrew (Monday).