A NEW BEGINNING AS AN INTERN
This summer, I was given the opportunity to do an internship, helping at the Korean Cultural Center, where they were offering a Korean studies seminar. Believing that no one really cared about a country the size of a speck on a globe, I was surprised to find that teachers from all throughout the United States flew out to Los Angeles just to learn more about Korea.
One of my most important tasks as an intern was to document history textbooks and create an excel sheet labeling the author' s name and number, publisher, and any pages that were relevant to any type of Asian or Korean history. I helped to contact the authors in hopes they would attend next year' s seminar and become interested enough to write about Korea in the next edition of their textbooks. Through all this, I could not help but feel like I was doing something important. As a Korean American, I hold my roots and origin to heart, and I take pride in who I am. I was very honored to take the first step in enlightening school classrooms all across the country about my culture. The history and culture of Korea is unique and fascinating, running deep in its rugged veins for thousands of years. I want to share this ancient wisdom with everyone because no matter who you are or where you are from, there are always new things to learn.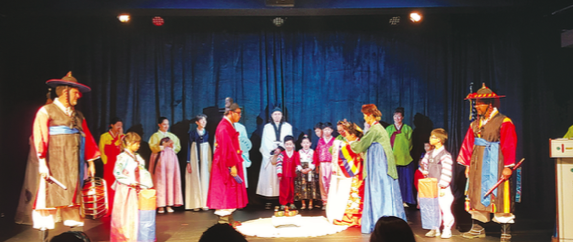 After my internship, I gained a newfound sense of place in my life and a source of conviction in my identity. Growing up in America, oftentimes, you forget about the roots that tie your life to your origins. More than anything, I want to spread the story of my country, making it known throughout the world, and grow as a person in the process.