A FULL DAY OF ENTERTAINMENT AT SILVERADO WITHOUT WOODS
NAPA, Calif. (AP) — Scott Piercy broke the course record at Silverado first set by Johnny Miller in 1976. Jon Rahm of Spain made a hole-in-one on his fifth shot as a PGA Tour member. Morgan Hoffmann made an albatross.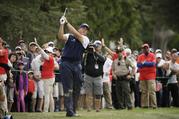 The Safeway Open delivered plenty of entertainment in the first round of the new PGA Tour season.
Even without Tiger Woods.
A new season brought out what might be the best weather of the week at Silverado, and no one took advantage quite like Piercy. He made 12 birdies against two bogeys for a 62, which was only good for a two-shot lead over Paul Casey and Patton Kizzire.
Woods was supposed to be the star attraction at the Safeway Open when he entered the tournament Friday, only to withdraw on Monday. The tournament in wine country still had a healthy crowd and was treated to a reasonable show. Phil Mickelsonplayed in the afternoon and shot 69 after a bogey-bogey start.
Rain is in the forecast the rest of the way, which is not great for the grape harvest. Or the golf.
PIERCY'S PUTTING: Scott Piercy is coming off one of his best seasons on the PGA Tour.
At least on paper.
Sure, he made $2.9 million without winning a tournament. Most of that money came from his runner-up finish to Dustin Johnson in the U.S. Open, and another runner-up finish to Johnson two weeks later at the Bridgestone Invitational.
Piercy was 156th in the most important putting statistic, and his mission this season was to change that. For one round, he couldn't argue with the results. Only three of his 12 birdie putts were inside 10 feet. He made a combined 129 feet of putts.
"I think I made more feet of putts than I did all last season," Piercy said.
He also had the course record. Miller shot his 63 on the North Course at Silverado in the 1976 Kaiser Open Invitational. Andrew Loupe and Brendan Steele each shot 63s last year. Miller never talked much about his 63 at Silverado. At least not as much as the 63 he shot at Oakmont.
MICKELSON'S FORECAST: Mickelson birdied the last hole for a 69, a good start for his first domestic PGA Tour event in the fall in a decade.
Told about the forecast of rain, Lefty had mixed feelings.
His management company runs the event (one reason he's playing) and rain won't help with the size or enthusiasm of the crowd, not to mention the clients and vendors that title sponsor Safeway is entertaining. As for his golf? He wasn't frowning.
"It's unfortunate the weather isn't going to be better, but from a playing standpoint, I like playing in bad weather," he said. "I've gotten over the years to be fairly effective in it and consequently I play well in the British. So I don't mind that challenge."
RAHM'S ACE: Rahm hit a 7-iron from 173 yards that flew straight into the cup on the 11th hole, his second hole of the round.
That it stayed in the cup was amazing.
So was the fact that it was the first hole-in-one of the Spaniard's career. In fact, he's never even seen an ace in person.
He was playing a team event once and had to go to the bathroom, and before he came back out, someone in his group had made a hole-in-one.
"They don't even tell me. They wait until we get to the green," he said.
Rahm opened with a 66.
THE ALBATROSS: Hoffmann had 251 yards for his second shot on the par-5 18th and didn't have the right club for such a shot, so he decided to pound a 3-iron. It hopped onto the green and into the cup for an albatross.
An albatross is the rarest shot in golf, and it was the third for Hoffmann. One was when he was a teenager. The other was during a practice round at the John Deere Classic two months ago.
This at least was his first in competition. He shot a 70.
CASEY ON A ROLL: Paul Casey opened with a 64. Just his luck, he was still two shots behind.
Casey was poised to win at the TPC Boston until Rory McIlroy shot 65 in the last round. He did everything right at Crooked Stick until running into Dustin Johnson. At least this time he has three more rounds.
Starting with the second FedEx Cup playoff event, Casey has averaged 67.2 over his last 13 rounds of golf. He is 50-under par during that stretch. And he has back-to-back rounds of 64, though the most recent one was just over two weeks ago at the Tour Championship.