Wal-Mart keeps working to make inroads against Amazon
NEW YORK (AP) — The nation's largest retailer keeps working to make headway against the largest online seller.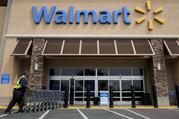 Wal-Mart drew more shoppers to its namesake stores in the United States and its online sales soared 29 percent in the fourth quarter, which covers the critical holiday shopping season. That's an indication that its efforts to lower prices and improve web services are helping it compete better against Amazon, which has built fierce loyalty with its Prime two-day shipping program.
Like other traditional retailers, Wal-Mart has been trying to improve its online operations to challenge Amazon, which accounted for 33 percent of total U.S. online sales last year, according to the research firm Euromonitor. Wal-Mart moved into second place last year ahead of eBay, accounting for 7.8 percent of online sales, up from 7.4 percent in 2015. But Wal-Mart's online sales still only account for about 3 percent of its global sales, or about $14 billion. That compares with $94 billion in global net product sales for Amazon.com.
The holiday shopping season was tough for many retailers, underscoring the changes they need to make. Macy's reported another quarter of sluggish sales, even as it's been scrambling for new ways to bring shoppers in and beef up online services. And Target Corp., one of Wal-Mart's main rivals, warned last month of weak sales for the holiday season. It reports final figures next week.
"We believe Wal-Mart is continuing to generate critical and increasing traction online," said Moody's retail analyst Charlie O'Shea.
Wal-Mart has retooled its online shopping programs and bought up some smaller companies with online strengths. And its aggressive effort to harness the power of its huge number of stores with its online business is starting to take form.
"We're moving with speed to become more of a digital enterprise and better serve our customers," CEO Doug McMillon said in a statement.
Last year, Wal-Mart spent more than $3 billion for Jet.com in a deal aimed at helping it attract younger and more affluent customers. Since then, it purchased online footwear retailer ShoeBuy.com for $70 million and the outdoor and gear seller Moosejaw for $51 million. These sites are operating as stand-alone sites. Wal-Mart last year also raised its stake in JD.com, China's No. 2 e-commerce site.
Marc Lore, the founder of Jet.com who is now CEO of Walmart.com, said Tuesday the company is still looking for new startups to buy. Under Lore, the company has quadrupled the number of items available on its third-party online marketplace to more than 35 million.
Wal-Mart said it's working to accelerate the integration between Wal-Mart.com and Jet.com, and trying to take advantage of its scale in areas like shipping and sharing its product selection.
Moving closer to the terms of Amazon's powerhouse Prime program, Wal-Mart is now offering free two-day shipping on online orders of its most popular items with a minimum purchase order of $35. Amazon Prime costs $99 a year, but comes with services like streaming music and video.
Wal-Mart executives said Tuesday that shoppers are responding well to the program. In a move to rival Wal-Mart's latest tactic, Amazon, however, quietly posted on its website over the weekend that it was dropping threshold for free shipping for non-Prime members to $35 from $50. But that applies to standard shipping of five to eight days, not two-day delivery.
Besides melding its online and store businesses so shoppers can jump back and forth, Wal-Mart is has launched changes designed to make its stores cleaner and its customer service friendlier and faster. The company has invested $2.7 billion in higher wages and training for workers, a move that it says has helped to lower turnover and improve customer service.
Wal-Mart saw the biggest gain in a key revenue measure in its U.S business in four years, marking the tenth consecutive increase. The number of customers rose for the ninth straight quarter. And the online sales gain of 29 percent, up from 20.6 percent in the previous period, marked the third straight quarter of gains.
Still, Wal-Mart is feeling some short-term pain. It reported fourth-quarter earnings that fell 18 percent as it spent money on online upgrades and stores. The results did beat Wall Street expectations. And total sales were hurt by a stronger U.S. dollar, which is making its international business more challenging.
Wal-Mart Stores Inc. also said Tuesday it has seen sales weaken at the beginning of the first quarter in part because a slowdown in tax refunds amid a new tax rule. And it warned that any tax on imported goods, as in a proposal Republicans in Congress have floated, would raise prices and would hurt shoppers.
The Bentonville, Arkansas-based company earned $3.76 billion, or $1.22 per share in the three months ended Jan. 31. That compares with $4.57 billion, or $1.43 per share, a year ago. Excluding certain items, earnings per share were $1.30. Sales excluding membership fees rose 0.8 percent to $129.75 billion.
Analysts had expected earnings of $1.28 per share on revenue of $131.13 billion, according to FactSet.
The company forecasts earnings per share of 90 cents to $1 for the first quarter and $4.20 to $4.40 for the year. Analysts expect 96 cents per share for the first quarter and $4.32 per share for the year, according to FactSet.
Wal-Mart's share rose 3 percent, or $2.08, to close at $71.45 on Tuesday.