As we say goodbye to 'Reply 1988′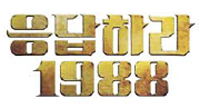 By Kwon Ji-youn
Though producer Shin Won-ho thought "Reply 1988″ would fall short of his very successful "Reply" series, viewers "replied" to the addition with a heightened enthusiasm that wrote history in cable television in Korea.
The curtain fell on tvN's "Reply 1988″ Saturday after recording an all-time high viewership of 19.6 percent. The last episode saw Deok-seon (portrayed by Girls' Day member Hyeri), a flight attendant, happily engaged to brilliant Go player Taek (Park Bo-gum) and law student Bo-ra (portrayed by Ryu Hye-young), Deok-seon's older sister, married to medical school student Seon-woo (Ko Kyung-pyo).
And the five families finally say goodbye to Ssangmun-dong, where Deok-seon and her four childhood friends ― Taek, Jung-hwan, Seon-woo and Dong-ryong ― were born, grew up and fell in love in the 1980s.
Family, friendship, love
If "Reply 1997″ and "Reply 1994″ focused on love as a theme, "Reply 1988″ hit closer to home with a focus on families and their struggles.
The parents of each of the five friends were definitely scene-stealers. Audiences in their 40s and 50s identified with Seong Dong-il and his decision to retire from work early; Seon-woo's mother and Taek's father, both single parents; and Jung-hwan's mother La Mi-ran, who experiences early menopause.
Siblings identified with Deok-seon and Bo-ra, who fought all the time but turned to each other in the face of challenges, and with Jung-hwan's affection for his weak older brother, who once dreamt of joining the air force. Jung-hwan becomes a pilot to fulfill his brother's dream.
"Reply 1988″ had the whole package ― it was emotional, identifiable and comedic all at once. It shed light on the economical and social affairs of the late 1980s, and breathed new life into the songs, films and trends of that time period, only to prove the retro fever in Korea has yet to lose steam.
Rookies also contributed to the success of "Reply 1988."
Girls' Day member Hyeri, who made her lead role debut with "Reply 1988," received critical acclaim for her portrayal of Deok-seon, and the series discovered new talent in Ryu Jun-yeol, Ryu Hye-young, Lee Dong-hwi and Ahn Jae-hong, all of whom were more active in independent filmmaking before they were discovered by director Shin.
Where did Jung-hwan go?
But the ending wasn't all roses for many fans.
That two of the five friends disappeared without a trace nearing the show's conclusion was a disappointment to audiences who had grown fond of them.
Kim Jung-hwan, portrayed by Ryu Jun-yeol, went from lead character to supporting role in a matter of episodes, trying the patience of viewers who complained the sudden change was nonsensical narrative-wise.
Jung-hwan had developed feelings for Deok-seon early in the plot, while they were high-school students. His feelings remained strong when the storyline entered 1994, and so the sudden romantic development between Deok-seon and Taek was unconvincing, according to several fans.
"I think the writers, because of spoilers that ran rampant online, abruptly changed the ending," said Kim Ji-hye, who works for a media company in Seoul. "Otherwise, it wouldn't have been so unpersuasive."
The writers, perhaps in the rush to make adjustments, forgot to give Jung-hwan a proper ending.
Ryu Dong-ryong (portrayed by Lee Dong-hwi), the last of the five friends, also went missing in action.
Dong-ryong, the class clown, ended up a restaurant owner, but considering a good portion of the plot was focused on friendship, the writers didn't do justice to Dong-ryong's role as counselor for the five friends, says online commentary. The Dong-ryong story was limited to just one episode.
'Reply 1988′ writes history
Even so, "Reply 1988″ wrote history in cable television industry.
Though tvN has normally targeted audiences in their 20s and 30s, "Reply 1988," with a focus on the joys and sorrows of the average working-class family, appealed to viewers of all ages.
Its first episode, which aired on Nov. 6, began with a viewership of 6.1 percent, considerably higher than the first-episode performances of "Reply 1997″ and "Reply 1994." The fifth episode broke 10 percent and the 19th episode hit 18.6 percent, shattering the tvN record set by the second season of "Superstar K" six years ago. The record was broken again the next day, by the final episode of "Reply 1988," which marked 19.6 percent.
The stars of "Reply 1988″ benefited from such successes, winning over 70 advertisement contracts.
Girls' Day member Hyeri, in particular, won more than 10 exclusive contracts with her appearance in "Reply 1988," and Ryu Jun-yeol and Park Bo-gum, both rookies, have also catapulted to stardom.
With Kim Hye-soo's "Signal" set to begin airing next week, tvN is posing a threat to the three major broadcasters with high-quality productions that prove drama series do not need adultery, amnesia or a Cinderella story to turn heads.
The ending may have been controversial, but the success of the series, which began amid concerns that the sequel would not meet expectations and that lead roles would not deliver, has ultimately raised the bar, and its actors, both rookie and veteran, have added a showpiece to their careers.