Tough to Choo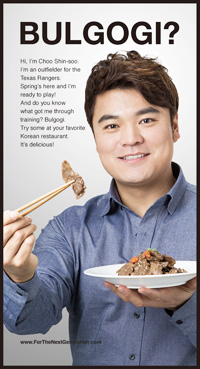 'Bulgogi' ad makes Choo laughingstock
By Jane Han
NEW YORK ― Yet another Korea PR fail. This time, Choo Shin-soo's bulgogi ad in The New York Times is getting chewed out.
In last Wednesday's print edition of the newspaper, the Texas Rangers outfielder was shown holding up a piece of meat with chopsticks wearing a classic forced smile.
So a Korean sports hero says he wants to help promote Korea's most popular beef dish. What's wrong with that? In this case, everything.
From the awkward ad copy down to the plate of "bulgogi," that people claim doesn't even look like bulgogi, the quarter-page ad is simply a PR catastrophe.
Adweek, a top American ad publication, even labeled it "the year's oddest celebrity endorsement,'' while NPR, Sports Illustrated, among others, summed it up as plain old "bizarre.''
Breaking down the ad from the top, the one-word question headline "Bulgogi?'' seems to have gotten everything off to a bad start.
"Who? What? When? Where? How? Why? All are standards questions, but: 'Bulgogi?''' wrote NPR. "Was this an ad for a Korean-American restaurant association? Or for a beef trade group of some sort?''
The seven-sentence main copy only adds to the weirdness.
It goes: "Hi, I'm Choo Shin-soo. I'm an outfielder for the Texas Rangers. Spring's here and I'm ready to play! And do you know what got me through training? Bulgogi. Try some at your favorite Korean restaurant. It's delicious!''
Ouch.
To be fair, this kind of copy seems to be somewhat acceptable and relatable if written in Korean. Yes, in Korean, but not in English. In fact, many people on Twitterverse have already concluded that a non-native English speaker must have approved the final copy.
Korean-American PR expert Paul Yoon adds to that thought.
"It looks almost as if a middle schooler used his dictionary to translate Korean to English. No wit and no sophistication here,'' he said, adding that a "cultural PR barrier is right in your face.''
As if the awkward headline and goofy copy aren't baffling enough, the odd Web address ForTheNextGeneration.com in small print at the bottom of the ad really tops everything off.
According to Sports Illustrated, "What's more confusing than Choo appearing in a print ad for a traditional Korean dish is the Web site behind it. ForTheNextGeneration.com is comprised of nothing more than a handful of boxes containing links to some news stories about Korea, as well as links for the Korean alphabet, food and K-pop, and links to the 2011 F1 Korean Grand Prix and the candidacy page for Pyeongchang, which will hold the Winter Olympics in 2018.''
It went on to write, "An email to the webmaster, as well as the domain's registrar, Seunghan Yi, went unanswered.''
The site is actually loosely run by Korea PR guy Seo Kyeong-duk, who frequents The New York Times, as well as Times Square billboards, as a go-to PR destination.
Seo couldn't be immediately be reached for comment.
Considering all the foul reaction to the ad, it may be a good thing that the ad was buried in the international section of the newspaper. Not a lot of people may have noticed; maybe or maybe not.