Students, bus driver escape serious injury in crash
LOS ANGELES (AP) — Students and their driver escaped serious injury when their school bus and multiple other vehicles crashed in South Los Angeles early Friday, leaving the bus almost on top of a crushed car, authorities said.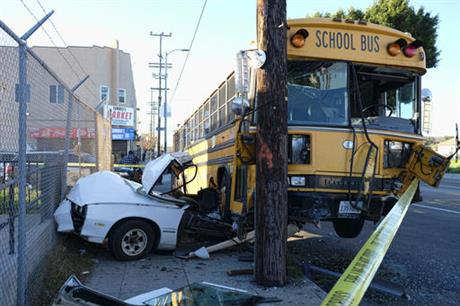 Seven students were aboard the bus. Four complained of pain but were not hospitalized, while the bus driver and the driver of a car had minor injuries and were treated at hospitals, according to a California Highway Patrol report.
"It's not as bad as it definitely could have been," California Highway Patrol Officer Randy Rodriguez said.
A security surveillance video obtained by KABC-TV (http://bit.ly/2jnb0p0 ) showed how the accident unfolded: As a car on a cross-street made a left turn onto the roadway, another car swerved to the right to avoid it and then swerved out of control to the left, crossed the center line and hit the side of the approaching bus.
The impact knocked the bus into parked cars, and one was dragged until the bus hit a utility pole and stopped.
Deon Jones, owner of the mangled car, told the TV station that he was at home when he heard the crash and went outside.
"Thank you, Lord, for not me being in that car. That's what I was thinking. I was blessed not to be in the car," he said.
The driver of the car that caused the accident was being sought, according to the CHP