PAKISTAN CITY SHUTS DOWN, MOURNS 61 KILLED AT POLICE ACADEMY
QUETTA, Pakistan (AP) — Pakistan's city of Quetta shut down on Wednesday following a militant rampage at a police academy the day before as the victims' families buried 60 police cadets and an army officer killed in the attack – one of the deadliest targeting Pakistani security forces in recent years.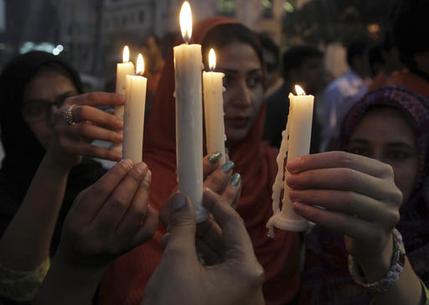 The brazen assault saw unarmed cadets and police trainees – many of whom were asleep in their dorms when the attack started – jump from windows and rooftops, fleeing for their lives. Pakistani troops battled the attackers for four hours before the siege was over.
The academy houses about 700 cadets, nearly all in their early 20s. Local Quetta hospitals were treating 123 wounded from the attack.
In conflicting claims, an Islamic State affiliate and a Taliban splinter group both said they were behind the attack in Quetta, the capital of Baluchistan province.
But Pakistani officials later said they intercepted communication between the attackers and their purported handlers across the border in Afghanistan, blaming an al-Qaida- and Taliban-linked group, Lashkar-e-Jhangvi Al-Almi, for the assault.
Quetta trade leader, Abdur Rahim Kakar, said all businesses and offices were closed in the city on Wednesday, while marketplaces were deserted.
Law offices and business communities in several other Pakistani cities also closed doors in solidarity while Pakistan's flag was lowered at half-mast at government buildings and other official institutions.
Kakar said there were not enough ambulances and funeral vehicles to transport all the bodies home, so some families were forces to take away their dead on top of passenger vans.
Naseer Khan Tareen, a merchant, said the government was not doing enough to prevent large militant attacks, citing an August suicide bombing that killed more than 70 at a gathering of lawyers on the grounds of a government-run hospital in Quetta.
"We had an incident hardly three months ago where 70 lawyers were killed and yet we have another one," he said. "There can't be any bigger tragedy."
Forensic teams and investigators were combing the academy on Wednesday to collect evidence, said Quetta police spokesman Shahzada Farhat.
According to authorities, three attackers with suicide vests had stormed the academy – two blew themselves up with explosive vests and the third was killed by army gunfire.
Farhat said he had no new information about the attackers or their nationalities. Islamic State group's media arm, the Arabic-language Aamaq news agency, had posted photographs of the alleged bombers to support its claim of responsibility. The group is waging a war in Syria and Iraq where it has declared a self-styled caliphate.
Local TV footage broadcast from the academy, located on Quetta's outskirts, showed a wide dark crater, blackened walls, shattered glass and window frames scorched from flames. Shoes of the victims were strewn about on the grounds
Within hours after the attack, which began at 11:30 p.m. on Monday, criticism mounted against the authorities for leaving the cadets at the academy vulnerable and unprotected.
Baluchistan Chief Minister Sanaullah Zehri acknowledged later Tuesday that the government had prior intelligence reports pointing to a planned large-scale attack. Local Geo News TV broadcast footage from a September parade of the cadets during which provincial police chief Ahsan Mahboob asked for funds to build a concrete wall around academy. Zehri attended the ceremony.
Pakistan has carried out several military operations against militants in lawless tribal regions near Afghanistan, including a major push that began in mid-2014 in North Waziristan, a militant base. The militants have killed tens of thousands of people over the years, seeking to overthrow the government and install their own harsh brand of Islamic law.
The police academy assault reminded many in Pakistan of the December 2014 Taliban raid on an army-run school in Peshawar in which more than 150 people, mostly schoolchildren, were killed, as well as the early August hospital bombing in Quetta.
Abdul Wali, who lost his brother in the August attack, said he wanted to invite the government to come to Quetta and see the pain he and others like him have gone through.
"We're tired of lifting dead bodies," he sighed.
Meanwhile, gunmen shot and killed a Pakistani polio worker during a polio campaign Wednesday in the northwestern Khyber tribal region bordering Afghanistan, government administrator Zia-ur-Rehman said. On Tuesday, a roadside bomb killed a policeman escorting polio workers in another region in the northwest.
Militant attacks on polio teams are common in Pakistan as the Taliban and other extremists claim the vaccination campaigns are a Western conspiracy. Pakistan is among few countries in the world where polio remains endemic.