North Korea, Jacob Zuma, Samsung: Your Tuesday Briefing
https://www.nytimes.com/2017/08/07/briefing/north-korea-jacob-zuma-south-china-sea.html
Good morning.
Here's what you need to know:
• North Korea threatened to retaliate "thousands of times over" and hinted at an attack on the U.S. over new U.N. sanctions.
North Korea's foreign minister, Ri Yong-ho, held rare multiparty talks with counterparts from China, South Korea and Russia at the Asean summit meeting in Manila.
Rex Tillerson, the U.S. secretary of state, left the door open for possible talks with the North and received a pledge of friendship from his host, the Philippine president Rodrigo Duterte, above.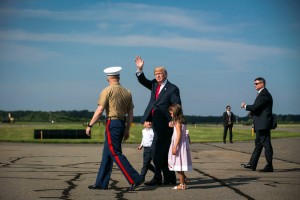 • President Trump, on a 17-day break from Washington, unleashed a barrage of Twitter posts against some of his most consistent media targets, including The New York Times.
Mr. Trump, seen above in New Jersey on Friday, vented frustration over what he considers insufficient credit for his political strength and the accomplishments of his six-month presidency.
Vice President Mike Pence, meanwhile, denounced a Times report that suggested he was among the Republicans positioning for a possible presidential campaign in 2020.
• In South Korea, a verdict could take weeks to arrive in the corruption trial of Lee Jae-yong, vice chairman and heir apparent to Samsung.
As the trial wrapped up on Monday, above, prosecutors recommended that he be sentenced to 12 years in prison for bribing the ousted president Park Geun-hye.
Samsung itself appears fine. Its electronics arm made $10 billion in profit last quarter.
CreditBrook Mitchell for The New York Times
• This Aboriginal activist is walking across Australia — from Perth to Canberra — to protest the treatment of Indigenous people.
Clinton Pryor had already walked 4,780 km, nearly 3,000 miles, by the time our bureau chief caught up with him.
"We're doing this for the grass-roots people," Mr. Pryor told him. "A lot of people are not being heard."
• Leadership challenges are a particular focus in Africa this week. President Jacob Zuma of South Africa faces a parliamentary no-confidence motion today — his fifth in eight years, and the first to be determined by secret ballot.
Kenya also votes today in a tightly contested presidential race that has been marked by fears that "fake news" and other toxic behaviors could lead to bloodshed.
And in Rwanda, the re-election of the longtime president, Paul Kagame, by a nearly 99 percent margin punctuated the glaring absence of a viable opposition.
Credit24 Hour News, via YouTube
• And our Australia crew examines the mysterious sea creatures that chewed up this Melbourne teenager's legs — and mesmerized people around the world.
The leading theory, hungry sea lice, has not satisfied some experts.
Business
• President Trump's stalled trade agenda — and his withdrawal from the Trans Pacific Partnership — have frustrated the U.S. industries he had promised to protect.
• A New York company that holds Trump trademarks has moved to protect the name in Macau. Mr. Trump has no businesses there, but trademarks — including "Chun Pou," a Cantonese version of his name — can protect against knockoffs.
• Iflix, a Malaysian video-streaming service that focuses on emerging markets in Southeast Asia, the Middle East and Africa, received $133 million in funding from a group led by the Hearst Corporation.
• Bitcoin hit a new high of $3,451 per coin, and the market for new virtual currencies sold by start-ups — what are called initial coin offerings — is red hot.
• Disney's earnings and meetings on oil production are among the headlines to watch for this week.
• U.S. stocks were up, and the Dow remained in record territory for a ninth session. Here's a snapshot of global markets.
In the News
• The U.S. Army, after more than a decade fighting Islamic insurgents, is scrambling to relearn Cold War-era skills to confront potential threats from Russia. [The New York Times]
• The governor of Minnesota condemned an attack on a mosque as a "terrible, dastardly, cowardly" act of terrorism. [The New York Times]
• The Australian Navy located the U.S. military aircraft, an MV-22 Osprey, that crashed off Queensland on Saturday, leaving three Marines presumed dead. [BBC]
• A North Korean, claiming he was "treated like dirt" in South Korea, is asking to be repatriated, only the second defector to make such an appeal. [The New York Times]
• On Manus Island, in Papua New Guinea, the body of a man said to have mental health issues was found near an Australian center for refugees awaiting resettlement. [The New York Times]
• Laos, once known as "the land of a million elephants," appears to be selling some of the last of the animals to Chinese buyers for use in circuses, zoos and conservation parks. [Asia Times]
Smarter Living
Tips, both new and old, for a more fulfilling life.
• Are you a carboholic?
• Don't worry about the toll exercise has on your heart.
• Recipe of the day: If you enjoy savory-sweet dishes, this beef stir-fryshould be in your rotation.
• Yesterday, we gave you an incorrect link for our weekly Smarter Living newsletter. Here's the right place to go for this week's tips on saving money and more.
Noteworthy
• The artist Cindy Sherman recently unlocked the Instagram account she made last year in Tokyo — and revealed hundreds of photographs, including more than three dozen distorted selfies.
• Our Vietnam '67 series examines Australia's role in the Vietnam War, to which it sent 60,000 service personnel. It was Australia's longest war until Afghanistan.
• And "Game of Thrones" rewarded fans — finally — with a fire-breathing battle royale. Here's our recap of the latest episode. (We have "Twin Peaks" fans covered, too.)
Back Story
Seventy-three years ago this week, when the headlines were filled with news of World War II, Smokey Bear became the symbol for the U.S. Forest Service.
Wildfires were a wartime concern, and some feared attacks on the West Coast after a submarine shelled a refinery in California and a plane dropped incendiary bombs on Oregon.
The Forest Service first turned to the Disney movie character Bambi for a fire safety campaign. Soon after, Smokey was commissioned as a permanent replacement and began appearing in posters urging people to prevent forest fires.
A few years later, a living Smokey Bear emerged. In 1950, a cub was found alone clinging to a burned tree in New Mexico. He was rescued by firefighters, dubbed Smokey and taken to the National Zoo in Washington, where he lived until his death in 1976.
For decades, there has been disagreement about whether humans try to put out too many forest fires that start naturally. The political and scientific debate continues today, and even Smokey acknowledges the benefits of some natural fires.
Sarah Anderson contributed reporting.
_____
We have briefings timed for the Australian, European and Americanmornings. You can sign up for these and other Times newsletters here.
Your Morning Briefing is published weekday mornings and updated online.
What would you like to see here? Contact us at asiabriefing@nytimes.com.