Malaysia arrests two more suspects in death of N.K. leader's brother
KUALA LUMPUR/SEOUL, Feb. 16 (Yonhap) — Malaysian police on Thursday arrested two more persons, including a second female suspect, over alleged involvement in the killing of the half brother of North Korean leader Kim Jong-un, foreign reports said.
Police detained a 25-year-old woman who was holding an Indonesian passport bearing the name of Siti Aishah in connection with Kim Jong-nam's death, according to a Malaysian police statement. A third male suspect, the Malaysian friend of the female detainee, was also taken into custody, the Associated Press reported.
A day earlier, the first suspect was caught at the airport — a 29-year-old woman with Vietnamese travel documents under the name Doan Thi Huong.
Kim Jong-nam — the eldest son of late former leader Kim Jong-il — was killed at an airport in Malaysia on Monday after allegedly being attacked with poison by two "Asian" women, according to South Korea's spy agency.
Malaysian police suspect that a total of four men and two women were involved, according to foreign news reports.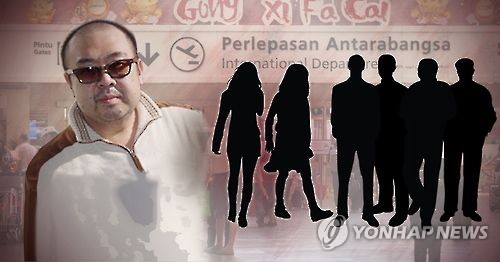 South Korea's intelligence service said that Kim Jong-un had issued a "standing order" to murder his elder brother since he inherited power in late 2011 following the sudden death of his father.
The 46-year-old was at the airport to take a flight to Macau when he was attacked by what could be North Korean agents. He died en route to a hospital.
The South Korean government confirmed Kim's death, but stopped short of saying that North Korea was behind it, adding that it is awaiting the results of the Malaysian police's probe.
"If Kim Jong-nam's murder was carried out by Pyongyang, the North's leader would have been aware of that," said an official at Seoul's unification ministry.
An autopsy on his body was conducted, but the results have yet to be revealed amid speculation that they may come out in the weekend.
Malaysia's deputy prime minister said that Malaysia plans to return his body at Pyongyang's request, although there are "procedures to be followed," according to AFP.
Kim Jong-nam was once viewed as the heir apparent, but he had been living in foreign countries for years after apparently falling out of favor with his father for attempting to enter Japan with a fake passport in 2001.
The latest case marked the most high-profile death under the Kim Jong-un regime since the execution of Jang Song-thaek in December 2013, the once-powerful uncle of the incumbent leader.
Experts said that the assassination is seen as the North Korean leader's move to strengthen his reign of terror by eliminating any potential challenge to his one-man rule.