LG bets on wearable devices
By Kim Yoo-chul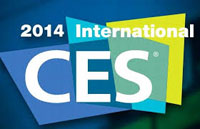 LAS VEGAS ― One of the main themes of the 2014 International Consumer Electronics Show (ICES) here is "wearable computing devices."
Several leading global tech firms announced their latest strategy updates for wearable computing items at various press conferences related to the ICES.
LG Display, a display-making affiliate of LG Electronics, aims to lead the wearable device market by supplying its advanced flexible displays.
In a news conference at the Bellagio Hotel with the Korean media, LG Display CEO Han Sang-beom said the world's biggest display panel manufacturer is in talks with its major clients to put its flexible displays on upcoming bendable devices to be launched by top-tier set makers.
"I can tell you confidently that LG Display hopes to lead the market for wearable devices by supplying our highly qualified, plastic-based flexible displays and meeting the tough requirements by each of our customers," Han said during the conference held on the sidelines of the world's biggest technology show that will last through Friday.
He stressed that the firm has internal shipment targets for flexible displays, although he declined to disclose the list of its clients.
"The market has interest in plastic-based flexible OLED displays. We are in the process of promoting our new display solutions to many clients. We are ready to supply."
"Honestly, it's too early to forecast the market. But what's clear is that there is a demand. Japan's Sony is asking for it and Google has shown interest in wearable devices," Han added. Officials at Sony and Google declined to comment.
Han's remarks come after Apple was preparing its preparing to launch its first wearable device, tentatively called "i-watch," in the latter half of this year, according to sources.
About the outlook for ultra high-definition (UHD) TVs, on which the world's top two TV manufactures ― Samsung and LG ― are betting to find new growth engines amid an explosive growth in portable devices, the CEO said that LG Display has been rolling out UHD panels in different sizes as the firm believes the UHD TV market will expand.
"The global TV market will grow in two themes ― UHD and the LCD. It will take more time for OLED TV market to fully take off. Therefore, our investment plan will be flexible based on market conditions. The OLED TV market will become mainstream after 2016. LG Display is being challenged by Chinese, Japanese and Taiwanese companies. We should go for premium ones," said the CEO.
He forecasts that the global display industry will remain balanced this year as consumers prefer to buy large-sized TVs.
"Demand will improve by 6 percent, while supply growth will remain at around 5 percent this year. Outlook for TVs isn't as bad as had been expected," said the CEO.
On the same day, LG Electronics unveiled its first remote-controlled, bendable and flexible OLED TV.
In a statement, the head of LG Electronics TV, Ha Hyeon-hoi, said its 77-inch flexible OLED TV will be managed by a remote controller with users deciding the intensity of viewing angles.
He said, "The release means that LG achieved a 'triple crown' in curved, flexible and flattened OLED TVs. LG will lead the global market for OLED TVs.".
LG Electronics is the major stakeholder of LG Display with a 37.9 percent share.