KOSPI nosedives
Woes in China, US send stock prices to 5-month low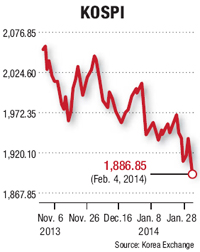 By Kim Rahn
Financial markets swooned Tuesday, following weaker-than-expected economic data from the United States and China, as well as continued capital outflows from emerging markets.
Stocks fell to their lowest level in five months, while the won remained weak against the dollar.
The benchmark KOSPI plunged 33.11 points, or 1.72 percent, to 1,886.85, the lowest since Aug. 28. The index once fell as low as 1,885.53, but recovered slightly on institutional buying.
The tech-heavy secondary KOSDAQ bourse also slid 6.06 points, or 1.18 percent, to 507.56.
Foreigners led the selling, dumping Korean stocks worth 660 billion won; they have sold more than 1 trillion won in stocks on the first two days of the month.
Analysts say investor sentiment has shrunk as the U.S. and China's economic indices were weaker than expected, causing concerns over a slowing recovery.
The U.S. Institute for Supply Management said Monday (local time) that its index for factory activity was 51.3 last month, the lowest in eight months and far lower than the market outlook of 56. The low figure pulled down stocks in the U.S. and Europe.
The purchasing managers' index in China, Korea's largest trade partner, also fell to 50.5 in January from 51 the previous month, a six-month low.
These poor figures aggravated woes over capital outflow from emerging markets, a result of the U.S.'s tapering of its quantitative easing programs.
"The weak data from the world's two largest economies means Korean exports to overseas markets may not increase as much as forecast. The data also dampened investor sentiment, and if the foreign investors' selling spree does not stop, the KOSPI could drop further to 1,850," Woori Investment & Securities economist Park Sung-hoon said.
The local currency ended at 1,083.8 won per dollar, up 0.7 won from Monday's close. It fell to as low as 1,089.9 won at one point, the lowest since 1,090.2 won on Sept. 9, but reversed afterward.
Samsung Futures researcher Jeon Seung-ji said, "Concerns over an economic slowdown in the U.S. and China coupled with emerging markets' volatility are growing so investors are preferring a riskless asset, meaning the U.S. dollar."
With growing volatility in the Korean market, the nation's credit default risk reached its highest level in four months.
According to SuperDerivatives, a global market data firm, the credit default swap (CDS) premium for Korean state bonds stood at 75.77 basis points (bp) on Monday, the highest since 78.56 bp on Sept. 30. A basis point is a 0.01 percentage point.
The higher the CDS premium is, the higher the risk of sovereign default.
Experts say Korea is no exception in the concerns over financial turmoil in emerging markets.
"Korea's economic fundamentals are stronger than other troubled emerging countries. But along with worries about China's economic slowdown, investors do not recognize the difference much," Hi Investment & Securities researcher Park Sang-hyun said.
Other Asian stock markets also fell. Japan's Nikkei Stock Average Index plummeted 610.66 points, or 4.18 percent, to 14,008.47. China's stock market was closed for the Lunar New Year holiday.