Hyundai raises Sonata prices in the U.S.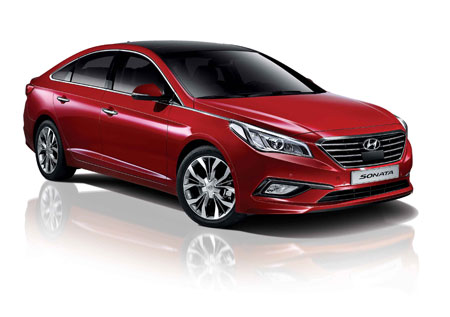 By Kim Tae-gyu
Hyundai Motor has decided to raise prices of its new Sonata sedan in the United States.
The new LF Sonata's price range from $21,150 to $31,575, some $1,500 higher than that for Korean customers, it was revealed last week.
The decision came after it opted to raise the price tag for the new Genesis to $38,000, up 7.8 percent compared to the previous model.
"We will not join a dumping war by any means. As our brand value is high and our products sell well in the U.S. market, we see no reason to cut prices," said a Hyundai official. "We are even thinking of raising annual capacity at our U.S. plants because we have struggled to meet growing demand there."
The official added that Hyundai also cares about price-sensitive motorists by coming up with basic models at affordable prices. He said Hyundai will not depend solely on price competitiveness.
Its move comes as part of a strategy to counter aggressive price cuts by its Japanese rivals riding on the weak yen against the dollar.
In contrast, the won has gained in value, making the price of exports more expensive.
The strategy is also in place in Europe where Hyundai sees a sign of rebound after a slump of several years. It has no plan to reduce prices there.
"We will not seek increased sales at the expense of profitability," the official said.
Observers lauded the preemptive action aimed at racking up head-on breakthroughs at a time when the Korean won continues to fall against the dollar.
"Hyundai is not a seller of cheap vehicles any more. It is now one of the contenders out there. It has no reason to provide big discounts in order to attract motorists," said an analyst at a Seoul brokerage.
According to Interbrand, a U.S. -based consultancy firm, Hyundai Motor was the world's 43rd best brand in 2013, up 10 places from the previous year. Its value was estimated at some $9 billion.
This was the first time the company made the top 50 list in the annual survey. Its sister company, Kia Motors, ranked 83rd with a value of $4.78 billion.
"It has to care about the appreciation of the won," the analyst said.
The won has been the fastest-appreciating currency in Asia over the past year. It has strengthened against almost every major currency with the sole exception of the British pound.
The strong won does not bode well for Korean exporters because it leads to higher prices of made-in-Korea products on the world market.
In particular, Korean automakers suffered a double whammy because the Japanese yen remains weak, thus helping Japanese carmakers advance globally.
Automotive producers of the two neighbors are fiercely competing in major markets including the United States, Europe and China.