Hops Nation
Navigating beer aisle now more complicated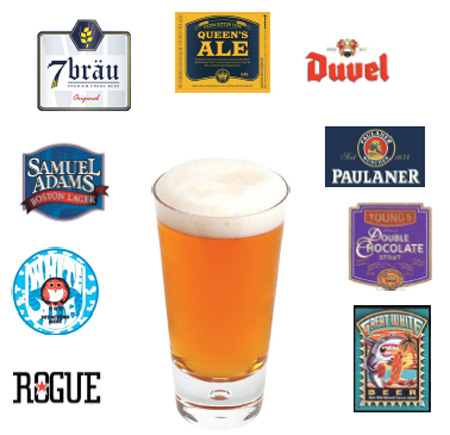 By Kim Young-jin
For beer lovers in Korea, it wasn't long ago that a trip to the supermarket was an exercise in compromise.
Approaching an aisle of glimmering cans, one might feel a twinge of hope, expecting to see a handcrafted brew or two.
This ritual inevitably ended with a person staring at a wall of light lagers produced by one of the country's two beer giants ― Hite-Jinro or Oriental Brewery (OB) ― and an assortment of mass-produced imports.
Luckily, times have changed.
At major retailers Emart and Homeplus, shelves are now stocked with a far wider selection of quality import beers.
While Korean lagers still dominate, sales of imports have edged up in recent years. Many of these products originate in the United States, Germany and Belgium and feature better ingredients ― and higher price tags. Importers hope that the market continues to grow as the public gets educated about beer.
Korean companies are finally getting into the act. In September, Hite released the country's first mass-produced ale, Queen's Ale. 7Brau, a domestic microbrewery, recently scored a victory by landing on the shelves of big retailers.
"I'm impressed with how competitive it's got, especially with the pricing," said Canadian Jamie Cottin, owner of Reilly's Taphouse in Itaewon, one of the establishments helping to popularize handcrafted beer here. "You can get a decent bottle of beer for around 4,000 won."
Emart, the country's largest grocery chain, imports 200 varieties of foreign beers and sales have jumped 40 percent in the second half from the same period last year. In 2011, 20 percent of beer purchased at its stores was from Korean companies. That number has jumped to 33 percent.
The growth comes despite decades of dominance by Hite and OB, which critics say sacrificed taste for low production costs. Tough regulations have prevented the spread of small breweries, controlled imports helped maintain the dominance of large companies.
The stranglehold may be weakening. As they travel more, Koreans have been exposed to high quality products. International media has slammed the watered-down local brands.
Expat and Korean entrepreneurs have stepped in to fill the void, brewing their own recipes and selling them in pubs mostly in the Itaewon area. Their popularity has raised questions about why, at a time when the government is pushing "creative economy," regulations remain so stiff.
The landscape, however, may soon change as bills are pending that could ease regulations and help smaller players get into the game.
Sustainable market?
Prices of many quality beers remain high. At a Home Plus in downtown Seoul, a bottle of Duvel, a Belgian golden pale, went for around 5,500 won as did the Tangerine Wheat by California's Lost Coast Brewery. A bottle of Hitachino Nest Espresso Stout went for 8,900 won.
The high prices of imports reflect a complex system of taxes and duties. Beer, which is classified as liquor, is subjected to a liquor tax of 72 percent as well as customs, education and value-added taxes, which are applied on a compounded basis.
Importers say the taxes overshadow any possible benefits of recently-implemented free trade agreements. In the case of the Korea-U.S. FTA, only the customs tax will be phased out.
One importer, who asked not to be named, said the stocked shelves at Homeplus reflect its desire to test the market and do not necessarily mean the products are selling well.
"They're test the marketing," he said. "Come next year, they are going to evaluate."
The importer expressed concern that the crowded marketplace could lead to a bubble.
"With a very high tax rate, these products are very expensive. If the disposable income of Korean families goes down a tick or two, what is the first product to go? It's these kinds of luxury goods."
What to look for
Dan Vroon, general manager of Craftworks Taphouse and Bistro on the outskirts of Itaewon, said that while the quality of imported beers has vastly improved, there are still challenges in the importation process.
"The problem is a lot of the people who are importing (craft beers) aren't shipping them refrigerated. By the time they come over here, the hop flavor has degraded," he said.
Hops ― the female flower from the hops plant ― balance the sweetness of beer with a bitter flavor and adds a floral aroma and flavor.
Beer companies often filter the yeast out of beer to prevent it from becoming active and "re-fermenting" due to temperature fluctuations, giving it a longer shelf life. Some argue that this changes the flavor.
Others, such as Troy Zitzelsberger say that filtering a beer doesn't change its taste discernibly. Zitzelsberger is what is known as a cicerone, an expert who ensures that beer is served properly.
"In general, quality is intact," he said of beers available on Korean shelves.
Both said that when possible it's good to check the "born-on" dates when purchasing a bottle of beer, with Vroon recommending purchasing product less than three months old.
Navigating the aisle
Ironically, selecting a beer can still be tricky ― but now it's due to the wide selection of beers, not a dearth.
Home Plus divvies them into pilsners, ale and wheat beers. While purists will point out that wheat beers are technically ales, the categories serve as a starting point.
Lagers, fermented at low temperatures, are said to be the most stable against temperature fluctuations during the importation process. There are many varieties, from the light pilsner style to darker lagers, and these are generally cheaper than ales, selling for between 3,000 and 4,000 won.
Among them, Pilsner Urquell is the old standby. The Czech beer is the oldest pilsner in the world and noted because it is "hoppier'' than most lagers. Other lagers include Efes Pilsner, a light Turkish beer; as well as Kozel Dark, a Czech lager with hints of chocolate and toffee.
Wheat beers have long been popular in Korea due to the penetration of such brands as Belgium's Hoegaarden. Accordingly, stores have seen an influx of such brews from Belgium and Germany.
Many beer enthusiasts point to Germany's Aventinus Weizen-Eisbock as the best of the bunch, but if you can find it, beware ― this is a potent pint. Made by freezing a portion of water out of the brew, this intense beer has an alcohol content of 12 percent. It also has a complex flavor featuring hints of banana, caramelized fruits and clove. Weihenstephaner Vitus, another German concoction, is also recommended. This too has hints of banana, pours a large head and a complex flavor featuring floral hops.
Ales may be the least represented on the shelves, but include some of the most interesting brews to be found in Korea. India Pale Ales ― known for their large dose of hops and high alcohol content ― to be found here include those by Anderson Valley Brewing Company and Lost Coast Brewery, both well regarded companies in California.
At the high end of the scale is Japan's Hitachino Nest White Ale at 6,900 won. Featuring a hazy orange color, this beer has a spicy aroma of nutmeg and coriander and a complex, citrusy flavor. Notable ales also include darker beers such as Young's Double Chocolate and the Hitachino Nest Espresso Stout.
Can Korea join the fray?
Those looking for cheaper alternatives may try Queens Ale, a six-pack of which sells for 13,000 won; or the 7Brau India Pale Ale, which costs around 2,000 won per can.
Early reviews of Hite's Queens Ale have been of pleasant surprise. Coming in two styles ― Blonde and Extra Bitter ― these beers may not be perfect. But many agree they are a far cry from the current batch of domestic brews.
According to popular food blog ZenKimchi, the extra bitter has "a rich nose with the bitter elements (expected) in an English ale." The blonde, "despite its light color…had some sturdiness." Some, however, have noted a slightly metallic flavor in the bitter style.
The importer said that despite positive signs, it remains unclear whether the market for imported craft beer can hold.
He said it was up to importers to help consumers better understand the different types of beer and why they are worth paying extra to drink them.
"Every importer that's willing to bring a beer in has a responsibility to go out there and develop a market, not just for themselves but for craft beer in general," he said. "We need to educate the public about these beers. Collectively, we could all do that."