'Do nothing' vacationers rising in S. Korea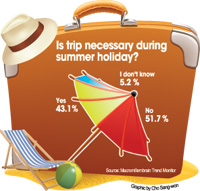 By Jhoo Dong-chan
In a recent South Korean television commercial, a popular actor says: "I don't want to do anything. I am not doing anything already… but still from the bottom of my heart, I don't want to do anything."
Many people feel the same, especially those young workers who are exhausted from stressful and demanding jobs.
That trend is also evident in their vacation plans this summer.
According to a recent survey on 1,000 people between the ages of 19 and 59 by the online research agency Macromillembrain, 52 percent of the respondents said "no" when asked if a trip is necessary during their summer holidays.
A 26-year-old surnamed Jeon, who succeeded in landing a job early this year, said he will spend his first summer holidays idly at a nearby hotel in Seoul.
"I will leave my cell phone at home and completely isolate myself from my office and home during my summer holidays," said Jeon. "It is like spending my money for doing nothing. But I believe it's worth every penny."
Yoon Mun-yeop, a public relations team manager of The Plaza Hotel in central Seoul, said an increasing number of people are now looking for a quiet and comfortable local vacation.
"Compared to the year of 2013, the number of our hotel guests who look for so-called 'idle vacation' programs has increased by more than 15 percent this year," he said.
A female office worker Cho, 36, also said she did not make any special plans for her vacation.
"I used to enjoy overseas travels during holidays. But nowadays, even planning trips and preparing for them is troublesome. I'll be stuck at home and watching soap operas," she said.
Experts say that such a trend is a typical feature of "fatigue society syndrome," the concept of the fatigue with its associated symptoms such as depression and exhaustion arising from competition and daily stresses.
Sociology Professor Shin Kwang-yeong of Chung-Ang University said that most people today are looking for a "flight from reality," where they are constantly pressured from the nation's demanding labor ethics and its complexity in human relationships.