Chinese fishing boats leave neutral waters after S. Korean crackdown: military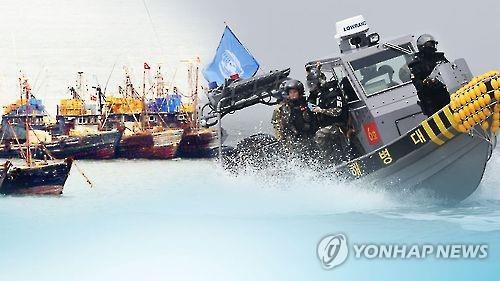 SEOUL, (Yonhap) — All Chinese vessels left neutral waters in the Han River's estuary between South and North Korea Monday, three days after the South Korean military and United Nations Command (UNC) started their first joint crackdown in the buffer zone, the Joint Chiefs of Staff (JCS) said.
On Friday, four South Korean speed boats with military police teams were sent into the waters that flow from the Han River mouth to the Yellow Sea to drive away Chinese fishing boats that have intruded into the tensely monitored area in search of blue crabs and other resources.
As the operation kicked off last week, about 10 Chinese boats retreated to the North Korea-controlled side of the waters and had since remained there.
"As of late afternoon on Monday, (all the) Chinese fishing vessels withdrew from the area," the JCS said in a press release.
The JSC said the crackdown operation was still in progress as of Monday afternoon "in preparations against the possibility the Chinese return to the neutral waters."
Another official said the South Korean military police plan to be on stand-by for some time to come in case the vessels come back.
The latest operation was the first joint project undertaken by South Korea and the UNC in the neutral waters since the area was declared a no man's land in the armistice agreement that ended the 1950-53 Korean War.
June is the peak season for blue crabs, the reserves of which are abundant in the largely untouched fishing ground near the de facto inter-Korean sea border, the Northern Limit Line. This has tempted Chinese fishing boats to illegally intrude into these areas.
Related to the South Korean operations that continued into Monday, North Korea did not respond or react in any way, the military said.
The North's pronounced silence, meanwhile, caused local media to raise the possibility that the cash-strapped country might have sold fishing rights in the neutral waters to China.
"I think there is a possibility," Defense Ministry spokesman Moon Sang-gyun said when asked to verify the speculation. "But nothing has been verified for sure on that matter," he added.