Art meets reality TV
Television art contest stirs up controversy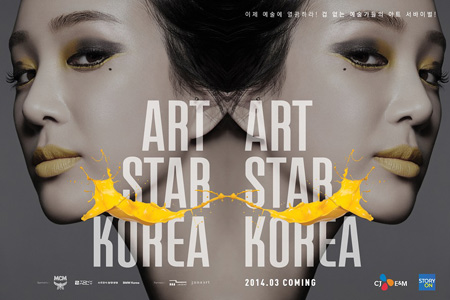 By Kwon Mee-yoo
Koreans love reality competition shows. While this is true for many countries, there's a palpable verve here for watching contestants sing, dance or cook their way into the hearts of the judges and nation.
Like them or not, such programs are a major launching pad for the careers of talented individuals or groups. A perfect example is Busker Busker, the troubadours who won fame when they came in runner-ups on on the show "Superstar K."
But what happens when you introduce massive public scrutiny and competition to the world of fine art?
An upcoming reality show, "Art Star Korea," is stirring debate because it will pit painters, sculptors and other artists against each other in competition. While the creators believe it will bring more attention to artists, critics fear it may impose an overly commercial element in the artistic community.
Slated to broadcast in late March, the show is a product of StoryOn, a channel of media and entertainment giant CJ E&M. The exact date of the launch has not yet been confirmed.
"We planned this program based on increasing public interest in art. We will shed light on the participants…and popularize art through the format of reality competition," Lee Hee-jin, spokeswoman of CJ E&M said.
The spokeswoman added that the program will draw on the company's experience producing the Korean versions of hit U.S. shows "Korea's Next Top Model" and "Project Runway Korea" and local products, "Super Star K" and "Korean Food War."
"That is why we didn't purchase the format of Bravo TV's Work of Art: The Next Great Artist, but developed our own format," Lee said.
StoryOn, which is filming the show now, has kept a tight lid on the participants, but says the list will include art students as well as established artists.
"The 15 contestants were selected among over 600 applicants," Lee said. They are from different genres of art including painting, sculpture, installation, photography, video art and industrial design. The show did not set any restrictions on age, academic background or employment, emphasizing the equal opportunity they provide.
Singer-turned-actress Jung Ryeo-won will host the show and some of Korea's noted critics and curators will take part in the program.
Chief curator of Artsonje Center Kim Sun-jung and art critic Ban Yi-jeong will serve as mentors of the participants. The list of judges includes Yoo Jin-sang, curator and professor at Kaywon School of Art and Design; Hong Kyoung-han, art critic and editor of art magazine Kyunghyang Article; and Woo Jung-ah, a POSTECH art history professor.
Hong, the art critic, said the show would give people a taste of the harsh realities of the art world. "Some among the established generation are stereotyped as aloof, lofty and focused on the pure side of art," he said in a statement, suggesting contestants might encounter such attitudes during the show.
The winner will receive 100 million won (around $94,000) and get the opportunity to host a solo exhibit at a major gallery in Korea and entrance into a local or international residency programs.
But some experts worry that Art Star Korea reflects the ills of Korean art world, namely its pervasive commerciality. Media exposure will be a double-edged sword, they say, giving participants a public profile but also emphasizing competiveness and celebrity over art.
On the show's website (artstarkorea.interest.me), some people expressed their expectations on the program. But the much of the chatter focused on whether the nations "next top artists" would be handsome or not.
Similar survival reality shows on contemporary art such as "Work of Art: The Next Great Artist" on Bravo TV in the U.S. or "School of Saatchi" on BBC in the U.K. have drawn controversy as well.
Time Magazine said about the Work of Art that "In a world where art is often about the complexity of the idea behind it, the challenges on the program have taken heat for being too simplistic" in 2010.
Art critic Chung Joon-mo worried that the program might ignore the agonizing nature of the artistic process, given the limited time of a television show. "This might instigate further commercialization," Chung said.
Kim Yong-ik, a former Kyungwon University professor, added, "Do artists think they make it when their works sell out? They also need a reputation in terms of art history," he said.
Kim said a longer-term perspective should be taken into consideration.
"This program hasn't begun yet and so it is difficult to criticize or compliment it in detail. But I think we should start from the fundamental feature of the program — is it really necessary to invite fine art into a survival reality show? I think we need to have a debate over the issue," Kim said.
Others see a positive side of the show, which is novel anyway. "There already are evaluation standard such as art contests. Art Star Korea is no different from them," an art critic who didn't want to be named said.
The popularity the participants will get cannot be ignored. CJ E&M's another survival reality "Dancing 9" produced a slew of dancers last year. B-boy Ha Hwi-dong, contemporary dancers Ryu Jin-wook and Lee In-soo enjoyed sold out performances after appearing in the talent show, which was unimaginable in the less popular dance performances.
In a move to give the show more credibility, Art Star Korea has joined hands with the Seoul Museum of Art (SEMA) to host the exhibition of the three finalists in May. Similarily, "Project Runway Korea" finalists present their collection at Seoul Fashion Week and Work of Art's final contestants held an exhibition at the Brooklyn Museum.
The municipal art museum said participating in Art Star Korea is a part of their movement to expand the boundary of contemporary art. "In addition to the exhibit, the museum staff will also take part in the final screening process. We think this as an opportunity to discover promising artists who have both artistry and popular appeal in a new approach. Through this media partnership, we seek to lower threshold to art museum and spread modern art," Byun Ji-hye, curator of SEMA, said.
The exhibition featuring the three finalists of Art Star Korea will run for three weeks starting May 30.