Anti-Asian Bias and Quotas in Higher Education?
Controversial questions to be tackled on broadcast panel discussion and audience Q & A
Co-sponsored by Community Advocates, Inc. and 89.3 KPCC-FM's AirTalk with Larry Mantle
Wednesday, February 12, 2014 in Los Angeles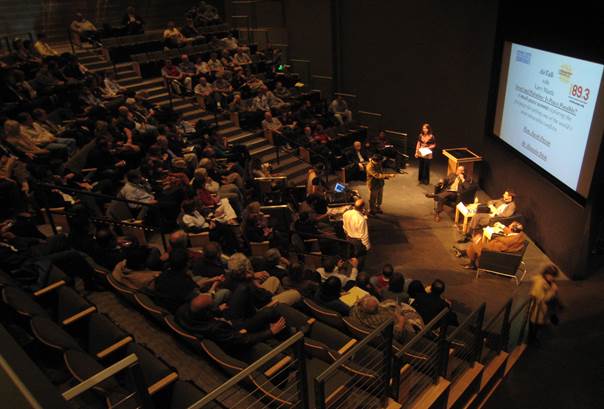 Studies suggest that Asian students at highly selective universities have mean SAT scores considerably higher than their white and black classmates yet are rejected at a disproportionate rate given their credentials. The Ivies have enrolled, on average, 16.5% Asian students between 1995 and 2011 while the underlying population of Asian students in the US has more than doubled in that period.
Is there a benign explanation for these numbers? Rumors of discriminatory quotas abound–what's really happening?
These controversial questions will be tackled on Wednesday evening, February 12, 2014 during a ground-breaking broadcast panel discussion and audience Q & A co-sponsored by Community Advocates, Inc. and 89.3 KPCC-FM's AirTalk with Larry Mantle at the National Center for the Preservation of Democracy, 111 North Central Avenue, Los Angeles, CA 90012.
Panelists include Professor Richard H. Sander, Professor Nancy Leong, Albert Giang, and Dr. Kevin Newman, with Larry Mantle, award winning host of AirTalk, moderating.
Sander has taught at UCLA Law School since 1989. He has studied affirmative action and its impact since 2004 and is the author (along with Stuart Taylor, Jr.) of the recent book, Mismatch: How Affirmative Action Hurts Students It's Intended to Help, and Why Universities Won't Admit It.
Leong, a professor at the University of Denver's Sturm College of Law, graduated magna cum laude from Northwestern University and with distinction from Stanford Law School, where she was a member of the Stanford Law Review. Her scholarship and teaching interests include constitutional rights and remedies. She recently published an extensive article in the Harvard Law Review on the topic of Racial Capitalism.
Giang, an attorney in private practice with Caldwell, Leslie and Proctor, has participated in cases involving affirmative action in university admissions. He filed an amicus brief in the United States Supreme Court on behalf of 70 Asian American organizations defending the use of affirmative action. He has been named one of the leading "under 40" Asian American attorneys in the country.
Newman, Assistant Head of School for Strategic Partnerships at Windward School, has been involved in the college admissions process for over fifteen years. He earned an M.B.A. from UCLA's Anderson School in 2001 and an Educational Doctorate Degree from UCLA in 2004.
Community Advocates, Inc. (CAI) strives to re-frame discussions about critical current human relations issues–particularly race, ethnic tensions, education, multi-culturalism, inner city violence— through a new and updated lens. For more than a decade, CAI has been at the forefront of a fresh approach to these issues, promoting critical discourse and common ground. Headed by David Lehrer and Joe Hicks, CAI is chaired by former Los Angeles Mayor Richard J. Riordan who also served as California's Secretary of Education. CAI contends that discussions surrounding key issues confronting this country are often predictable, orthodox and punctuated by political correctness. Each broadcast forum in this continuing series features panelists chosen for the quality and diversity of their ideas. CAI believes that various ideological assumptions regarding the causes and possible solutions to society's toughest problems often prevent creative and dynamic interactions that might result in new approaches. CAI chooses issues that have historically proven to be difficult for the formation of "common ground" understandings among the advocates on various sides of the debate. www.cai-la.org
Southern California Public Radio (SCPR) is a member-supported public media network that operates 89.3 KPCC-FM in Los Angeles and Orange County, 89.1 KUOR-FM in the Inland Empire and 90.3 KVLA in the Coachella Valley. SCPR also informs and interacts with its communities through its web site, mobile and social media channels and live events. Reaching more than 700,000 listeners every week, SCPR is the most listened-to public radio news service in Southern California and serves the diverse communities of Southern California with award winning local news coverage as well as with the most NPR (National Public Radio) content available anywhere in the region. www.scpr.org